Wolseley Barracks (1958)
Topic: Wolseley Barracks

With the rebuilding of Wolseley Barracks in London, Ontario, through the 1950s, the base became ready to house a Regular Force battalion of The Royal Canadian Regiment in its new infrastraucture, and would do so until 1992. The image below, from the regimental journal of The Royal Canadian Regiment,
The Connecting File
, Winter 1958-59, shows the base as it was by 1958/59. (Click on the image for a larger version). Following are an explanation of the names of some of the buildings, this has been transcribed as printed and some fact-checking on details of regimental history are recommended before using them verbatim.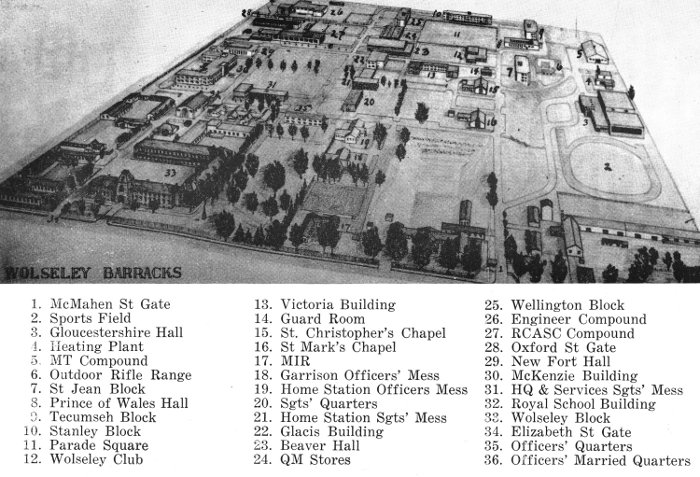 Names of Buildings Wolseley Barracks
Listed hereunder are the approved names of the buildings in Wolseley Barracks, these names now being in use, also, the explanation of their origin.
McKenzie Block (No. 1 Barrack Block)
Named after Thomas McKenzie, who was the first recruit in the Infantry School Corps in Jan 7, 1884. He served for 12 years as CSM of "A" Coy with the Corps.
Wellington Block (No. 2 Barrack Block)
Named after Wellington Barracks in Halifax, which was occupied by members of the Regiment from 1900 to 1940.
Stanley Block (No. 3 Barrack Block)
Named after Stanley Barracks in Toronto, which was occupied by members of The Regiment from 1899 to 1950, and was the former location of "B" Coy RCR.
Tecumseh Block (No. 4 Barrack Block)
Named after Tecumseh Barracks, London, Ont., they were the former World War 1 Barracks in London and location of HQ & "C" Coy of the Regiment from after World War 1 until The Regiment moved back into Wolseley Barracks Apr 1923.
St. Jean Block (No. 5 Barrack Block)
Named after Fort St Jean, Quebec, which was the original location of "B" Coy Infantry School Corps, 1884. "D" Coy of The Regiment also moved into the barracks from Montreal in Oct 1925, and remained there until Dec. 1939.
Glacis Building (Lecture & Training Building)
Named after Glacis Barracks, Halifax, NS. These barracks were occupied by members of 3 (Special Service) Bn RCR from 1900 to 1904, and were torn down in 1946.
Gloucestershire Hall (PT & Rec Building)
This gymnasium was thusly named to commemorate our affiliation with The Gloucestershire Regiment.
Victoria Building ( Administrative Building)
Named after Victoria Barracks in Camp Petawawa, Ont., which was occupied by 1 & 2 Bns RCR before their move back to London.
Beaver Hall (Drill Hall)
Since the Beaver is part of our collar badge, and denotes "Work" we feel is is most appropriate for the Drill Hall, in which most of our training is conducted.
New Fort Hall (No. 1 Mess Hall)
Named after New Fort Barracks, which was first occupied by "C" Coy, Toronto, Infantry School Corps, 1 Apr 1884.
Prince of Wales Hall (No. 2 Mess Hall)
Named after Prince of Wales Barracks in Montreal, which was occupied by "D" Coy RCR after World War 1, until their move to St Jean, Que., in 1924. This barracks has since been torn down.
Wolseley Block ("A" Block)
This name was taken from the inscription on the corner stone.
Posted by regimentalrogue at 12:01 AM EDT