Wolseley Barracks, 1998
Topic: Wolseley Barracks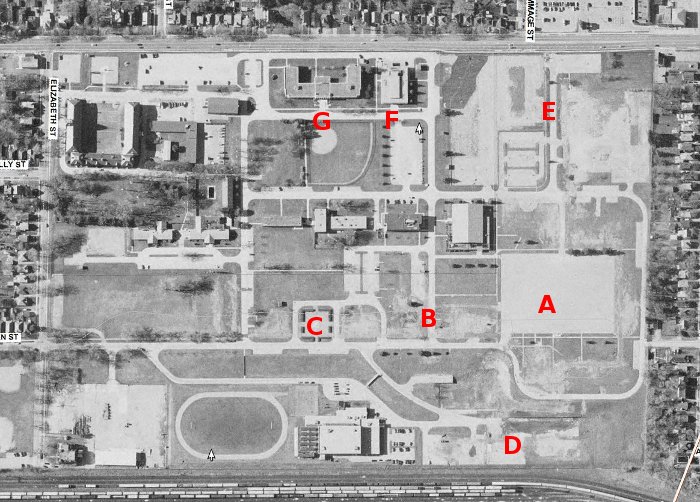 (Click to see a larger version without the overlaid letters.)
Wolseley Barracks, 1998
Thanks to aerial photos provided at the website for the City of London, Ontario, we can see what Wolseley Barracks looked like in 1998. Six years after the departure of the 1st Battalion, The Royal Canadian Regiment, striking changes have been taking place as the Department of National Defence removes the unused buildings at the Barracks. Although buildings have been removed, the 1998 air photos still shows the locations of each structure.
The parade square at "A," has been surrounded by the barracks (on the north, east and south), the Battalion Quartermaster's Stores (to the north) and the Combat Support Company offices and platoon stores, (on the south side).
At location "B," we see the scars left by the removal of the Base/Battalion headquarters (to the north), the Junior ranks (i.e., Soldier's) Mess (to the east) and the Base Guardroom (to the west).
"C" marks the original location of the Regimental Memorial of The Royal Canadian Regiment, first dedicated at that location in 1959 by His Royal Highness Prince Philip. In this photo the Memorial has been moved to the northwest corner of the base, immediately north of the "U"-shaped Wolseley Hall. It was moved again in 2012, being placed between the ends of the wings of Wolseley Hall, where it can be seen today by any visitors to The Royal Canadian Regiment Museum.
To the east and west of "C" are the locations of the Roman Catholic and Protestant base chapels.
"D" was the location of the Battalion Maintenance Section, today it is the parking area for the Carling Heights Optimist Community Centre (the recycled Base Gymnasium).
Surrounding "E" was the Canadian Forces Base London Transport and Maintenance Sections. This area of the base is now a major grocery store.
The kitchen building at "F" is yet to be torn down, and a new Supply, Maintenance and medical facility, the McNeil Building, will eventually be built between marks "E" and "F," which can now be ween along Oxford Street.
The 1950s Barrack Block, the McKenzie Building, at "G" will become the new headquarters for the base and for 31 Canadian Brigade Group.
As the demolition of buildings was completed, the Base was reduced in size. The north-east corner, as stated, is now a supermarket, and the southern portion of the base, between the remaining buildings at the centre of the image and the ones at the lower edge, is occupied by a housing development of 125 new homes built in the past decade.
See Also:

Posted by regimentalrogue at 12:01 AM EDT
Updated: Saturday, 27 July 2013 12:05 AM EDT