HMCS Bonaventure
Topic: RCN


Click for larger image. Image published in Jane's Fighting Ships 1967-68.
HMCS Bonaventure
Preceded by HMCS Warrior and HMCS Magnificent, HMCS Bonaventure was Canada's last and longest serving aircraft carrier.
A Majestic class carrier, The Bonnie served in the RCN 1957 to 1970. She was laid down 27 Nov 1943 for the Royal Navy as HMS Powerful, and launched for completion afloat on 27 Feb 1945. With the end of the War, but work on her was suspended in May 1946. Purchased by Canada and renamed HMCS Bonaventure, work resumed in July 1952 and she was completed 17 Jan 1957 and thereafter commissioned in the Royal Canadian Navy.
Initially carrying 34 aircraft in five squadrons:
The Banshees were retired I 1962 and a few years later new Sikorsy Sea King helicopters were added to the Bonaventure's complement. After the Bonnie's 1967 refit, the air component consisted of 21 aircraft.
HMCS Bonaventure was decommissioned by the Canadian Armed Forces on 3 July 1970 and broken up in Taiwan in 1971.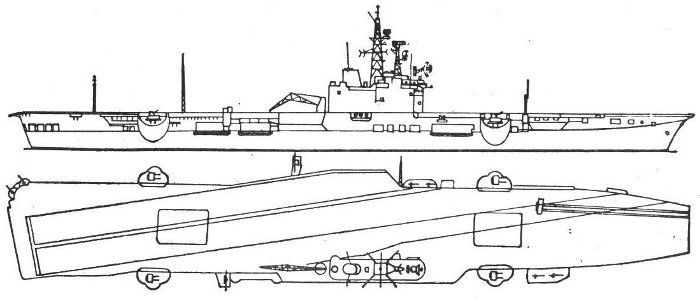 Posted by regimentalrogue at 12:01 AM EDT