Mobile Command, circa 1978
Topic: Canadian Army

Photo provided courtesy of Al Ditter (The RCR). Although this photo shows Canadian atmy M113s and Centurian tanks, it actually shows 3 Cdo, and unit of 4 CMBG (which was not part of FMC).
Mobile Command, circa 1978
From: The Defence of Canada, by Colonel Norman L. Dodd, The Army Quarterly and Defence Journal, Vol. 108, No. 1, Jan 1978
The Commander of Mobile Command has his headquarters at St. Hubert, Quebec, and is responsible tor providing operationally ready land and tactical air forces to meet any military commitments decided upon by the Government. He is also the Commander of the Eastern Region. The strength of his command is about 17,000 regulars with 4,520 civilian employees and some 17,700 militia men and women. The latter correspond to the British TAVR and play an important part in all major exercises and provide reinforcements for the limited regulars.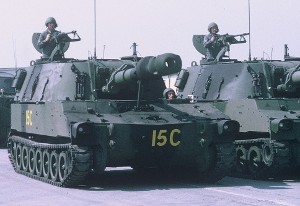 Mobile Command is presently undergoing a reorganization which will result in the formation of one brigade group in the West with its HQ at Calgary and another brigade group at Valcartier, Quebec, in the East. An air droppable/air portable combat group is moving to Petawawa, Ontario, from Edmonton. Out of these formations must come the Canadian land contribution to the Allied Command Europe Mobile Force (AMF), this consists of an infantry battalion, a field battery, some logistic personnel and is supported by a squadron of CF-5 fighter aircraft provided by the air command. Canada has also agreed to provide other reinforcements for operations in North Norway in emergency, the exact numbers and their deployment is presently under discussion with General Haig, the Supreme Commander Allied Powers in Europe (SACEUR). Mr Danson said in early 1977 that the Canadian role in NATO must be credible, reinforceable and supportable and he considered that the main role in the Central Front of NATO is a realistic one.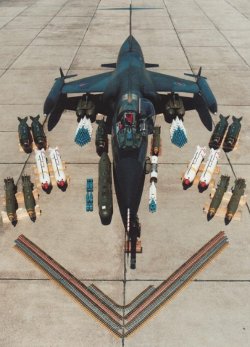 The 5,000 strong Canadian 4th Mechanized Brigade Group (4 CMBG) and the 1st Canadian Air Group (1 CAG) are located at Lahr in the Central Army Group/4th Allied Tactical Air Force sector of Allied Command Central Europe. The 1 CAG has three squadrons of CF-104s and a Kiowa helicopter squadron. The main armament of the Canadian armoured units is still the Centurion tank of which there are about 225 in service. However an order has been placed for a total of 128 Leopard tanks from Germany. Thirty-five Leopards have been loaned to the 4 CMBG and are in use at present, these will be returned as the main order is fulfilled. It is the intention to have sufficient for three squadrons in Germany although normally only two will be manned in peacetime.
Other army equipment includes 50 105 mm pack howitzers, 150 105 mm howitzers, 50 M- 109 mm SP howitzers, 150 TOW anti-tank guided missiles, 100 Blowpipe surface to air missiles, 170 Lynx recce vehicles and 170 Ferret armoured cars. In the modernization programme 350 general purpose six wheeled armoured vehicles have been ordered. They are of Swiss design and will be built by General Motors in London, Ontario. There will be three models; 152 will be Cougar fire support vehicles with a 76 mm gun in the British Scorpion turret, 175 Grizzly armoured personnel carriers each able to carry nine infantrymen and 19 Husky maintenance and recovery vehicles. They have a good cross country performance, a speed of 100 kph, a range of 600 km and are air transportable. The armour, built in Canada, is proof against small arms and shell fragments. The new vehicles will be used in Canada mainly by the Militia, for UN peacekeeping duties and in Germany.

Posted by regimentalrogue at 12:01 AM EDT
Updated: Monday, 11 November 2013 8:20 PM EST