A Royal Canadian and the Halifax Explosion
Topic: Halifax

A Royal Canadian and the Halifax Explosion
Barely two weeks after the Canadian assault on Vimy Ridge, a Russian born miner from Glace Bay, Nova Scotia enlisted in The Royal Canadian Regiment. It was on 23 April, 1917, that Frederick Felepchuk enlisted in Halifax, signing his attestation papers for service overseas. This was on the day after his 23rd birthday, and no-one would have predicted that he would be a casualty of the war without ever leaving the port city.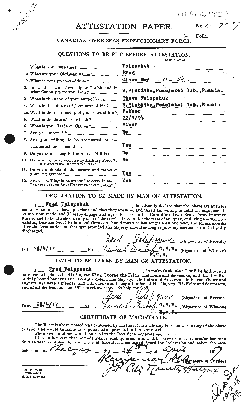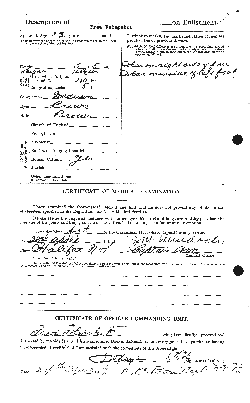 479037 Private Frederick Felepchuk's attestation paper. The attestation papers of Canadian soldiers of the First World War can be found on line at the Library and Archives Canada website.
In December of 1917, Felepchuk was still in Halifax, serving in the garrison with The Royal Canadian Regiment. On the 6th of December, he was posted as a duty sentry on a harbourside pier. Tragically, this gave him a front row seat for the largest man-made explosion to that fatal date — the Halifax Explosion.
From the dedicated website halifaxexplosion.org, comes the following summary of the devastation of that morning:
"The Halifax Explosion was a disaster that occurred in a thriving city at a time of war. The Explosion was the result of a collision between two ships in the Halifax Harbour. At 9:04:35 on the morning of December 6, 1917, a munitions ship, the Mont-Blanc exploded, immediately killing more than 1600 men, women, and children. More than 9000 others were wounded, 12,000 buildings were damaged, either laid flat or made uninhabitable, barely a single pane of glass was left to keep out the weather. The destruction covered 325 acres of Halifax, and Dartmouth across the harbour."
Frederick Felepshuk's death was one tragedy among thousands who suffered death or maiming, tragedy compounded for the many survivors by the loss of loved ones, of homes and the descent of winter conditions on a shattered city. His body recovered and identified, Felepshuk was buried in the Fort Massey Cemetery in downtown Halifax.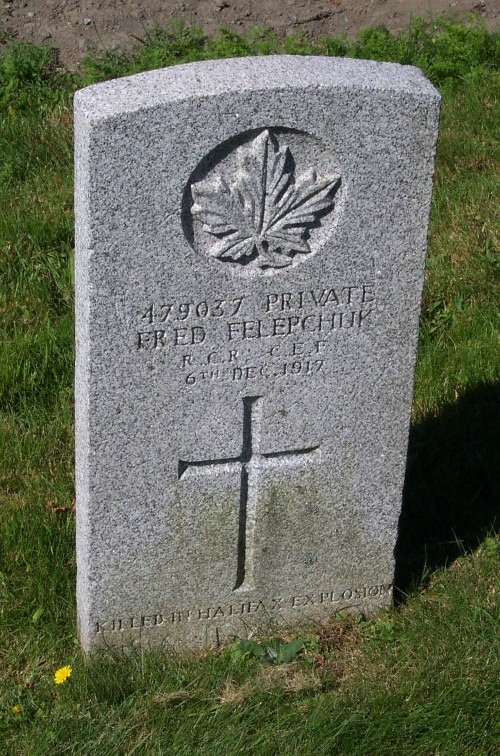 The Government of Nova Scotia maintains a digital edition of the Halifax Explosion Remembrance Book among its collection of on line resources related to the Explosion.
Private Felepchuk's record in this on line memorial provides the following details:
Age – 23
Address – Glace Bay, NS
Occupation – The Royal Canadian Regiment
Buried – Fort Massey Cemetery, Halifax, NS
Family – Wife Ellen, 4 child, father Steve Felepchuk, Podolsk, Russia
Court of Inquiry stated Felepchuk killed by Explosion duty pier. Snow's Funeral Home 479037
Felepchuk can also be found in the Canadian Virtual War Memorial, confirming him as an official casualty of the First World War. His name is inscribed on Page 236 of the First World War Book of Remembrance.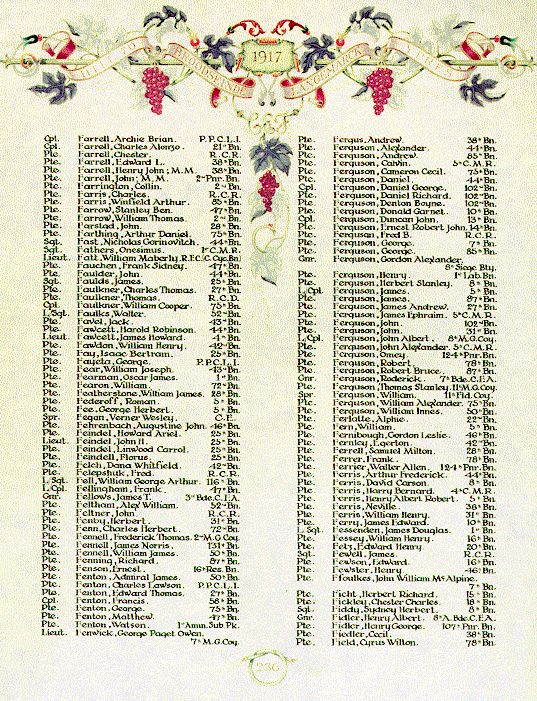 A search of the Canadian Virtual War Memorial for deaths on 6 Dec 1917 returns 54 names of Canadian sailors and soldiers. A review of individual pages shows that quite a few of them appear to have died at Halifax on that date.

Posted by regimentalrogue at 12:01 AM EST