Guardians of Peace
Topic: Mortars
Guardians of Peace
Canadian Armed Forces Recruiting Advertisement, circa 1952.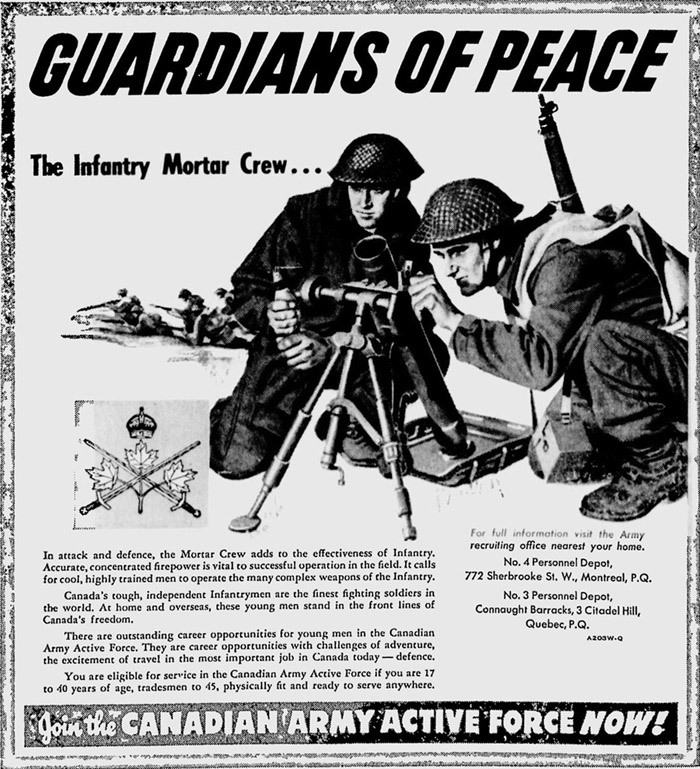 The Infantry Mortar Crew …
In attack and defence, the Mortar Crew adds to the effectiveness of Infantry. Accurate, concentrated firepower is vital to successful operation in the field. It calls for cool, highly trained men to operate the many complex weapons of the Infantry.
Canada's tough, independent Infantrymen are the finest fighting soldiers in the world. At home and overseas, these young men stand in the front lines of Canada's freedom.
There are outstanding career opportunities for young men in the Canadian Army Active Force. There are career opportunities with challenges of adventure, the excitement of travel in the most important job in Canada today — defence.
You are eligible for service in the Canadian Army Active Force if you are 17 to 40 years of age, tradesmen to 45, physically fit and ready to serve anywhere.

Posted by regimentalrogue at 12:01 AM EST