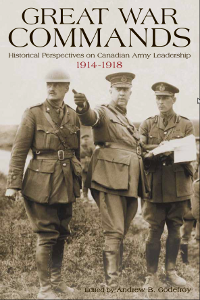 A free pdf book on Canadian Genarals in the First World War, edited by Major Andrew B. Godefroy, PhD.
Read more.
Download pdf (3.8Mb).
The Regimental Library
This recommended reading list was started as a result of a discussion on the original Canadian Army Mailing List hosted by the (Unofficial) Canadian Army HomePage. It is by no means exclusive or complete. Any suggestions for additions are welcome. Links to Amazon.ca are included so that you can look for these books and movies. There is also a list of some of the references from The Rogue's Papers.
Reading Lists:
Biographies and History
History and Personal Narratives
Canadian History by Pierre Berton:
Classics:
The lighter side of soldiering
From the same author; the Flashman papers (though the list here is incomplete):
Psychology and Sociology