The First World War
Officers of The Royal Canadian Regiment
Hon. Capt. Albert Edward Andrew, M.C.
Chaplain
Soldiers of the First World War database entry - A.E. Andrew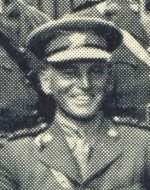 Hon. Capt. Albert Edward Andrew, M.C. (1918)
Service:
Albert Andrew was born in St. Eleanors, P.E.I., his wife was Minnie Ethel Andrew [née Sinclair].
Left Canada with 5th D.A.C., C.F.A., 4 May 1917
Honorary Capt; 17 Sep 1917
Joined RCR in France 6 Aug 1918
1919: Supplement to the London Gazette, 8 March, 1919 — Awarded the Military Cross — Rev. Albert Edward Andrew, Can. Chapl. Serv., attd. R. Can. R., Nova Scotia R.
1936: The Canada Gazette, Ottawa, Saturday, November 21, 1936 — G.O. 126 The Canadian Efficiency Decoration:— Awarded the Canadian Efficiency Decoration under the Provisions of the Royal Warrant dated 23rd of September, 1930 and General Order No. 2., of 1932. — Hon. Major A. E. Andrew, M.C., C.C.S.
Rev Canon Albert Edward Andrew is buried in Maplewood Cemetery, Windsor, N.S., with his wife and 2 daughters, and near his son Gerald.
M.C. Citation:
SUPPLEMENT SUPPLEMENT TO THE LONDON GAZETTE, 4 OCTOBER, 1919; Issue number: 31583, Page number: 12352
Rev. Albert Edward Andrew, Can. Chaplains Serv., attd. R. Can. R., Nova Scotia R. - For conspicuous gallantry during the operations near Cambrai, from 27th September to 1st October, 1918. For forty hours, without any interval for rest, he made repeated trips into No Man's Land, often in the face of heavy machine-gun fire, bringing back into our lines wounded. On several occasions he organised and guided stretcher parties to a dressing station through heavy shell fire. Throughout he displayed fine devotion to duty.
Boorman Family Genealogy
Rev Canon Albert Edward ANDREW (1872-1961)
My great uncle Albert Edward ANDREW not only distinguished himself in his chosen career as cleric with the Church of England, but he also displayed courage, valor and leadership during his military service as an army chaplain in the Great War.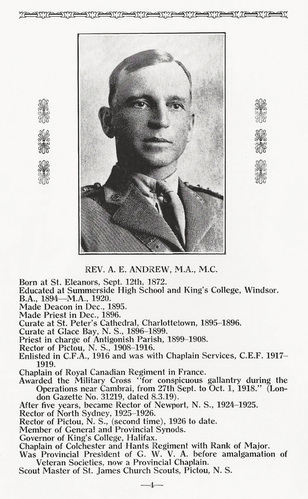 Date of Birth - 12 Sep 1872; St. Eleanors, P.E.I.
Date of Death - 7 June 1961; Windsor, N.S.; age 88
Corrections and additional details provided by Albert Andrew's great-niece, Claudia Boorman, May 2015.