The First World War
Officers of The Royal Canadian Regiment
Lieut. Harry Christie Barker, M.C.
Soldiers of the First World War database entry - H.C. Barker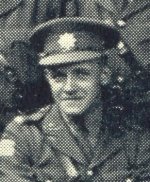 Lieut. H.C. Barker, M.C. (1918)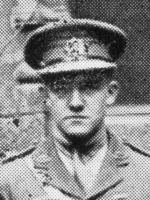 Lieut. H.C. Barker, M.C. (Nov, 1918)
Service:
1 Year Royal Military College
Appointed to The RCR 31 Jul 1916
Lieut; 1 Aug 1916
Sailed from Canada 23 Aug 1916
Joined RCR overseas 18 Oct 1916
To be I.O. 30 Dec 1916
Wounded in Action 9 Apr 1917
Evacuated to C.C.S. 9 Apr 1917
Rejoined unit 24 Jun 1917
14 days leave to U.K. 15 Nov - 2 Dec 1917
10 days leave to Nice 15 Jul 1918
Awarded Military Cross
M.C. Citation:
SUPPLEMENT TO THE LONDON GAZETTE, 11 JANUARY, 1919; 10 January 1919, Issue number: 31119, Page number: 652
Lt. Harry Christie Barker, R. Can. Regt., Nova Scotia Regt. - During a night attack on a village this officer carried out a most daring and valuable reconnaissance. In pitch darkness he discovered the dispositions of the left and right companies, and on his information to the commanders, they were connected up. He then found that our right flank was in the air, with no connection with the battalion on our right. He proceeded into "No Man's Land" at great risk from hostile machine-gun fire, and discovering the next battalion's left party, was able to guide this battalion into line. Our flank was secured and the success of the operation assured. He reported to battalion headquarters the complete and accurate dispositions of our line.
Date of Birth - 30 Dec 1897; St John, NB