The First World War
Officers of The Royal Canadian Regiment
Lieut. Hugh Philip Bell
Soldiers of the First World War database entry - H.P. Bell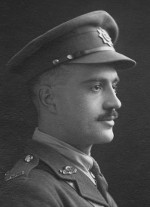 Lieut. Hugh Philip Bell
Service:
66th Regiment, Princess Louise Fusiliers, Private to Sergeant; 1905-07
Corps of Cadet School Instructors; Lieut., Aug 1912 - Dec 1914
63rd Regiment, Halifax Rifles, Lieut.; 19 Dec 1914 - 5 Apr 1915
40th Bn. C.E.F., Lieut. and Capt.; 5 Apr 1915 - 16 Apr 1916
The R.C.R., Captain; 16 Apr 1916
SUPPLEMENT TO THE LONDON GAZETTE, 8 NOVEMBER, 1916. - R. Can. Regt. - The undermentioned Capts., from 25th Can. Inf. Bn., to be temp. Capts.:- H. P. Bell; 25 Aug. 1916.
Wounded in action 8 Oct 1916
Invalided and transferred to Engand 16 Oct 1916
Rejoined RCR 8 Mar 1917
Admitted to hospital while on leave and struck off strength 28 Aug 1917; Granville Cdn Special Hospital
Musketry Officer, Seaford; 2 Oct 1918 to 22 Nov 1918
Listed in The Canadian Who's Who, Vol. IV, 1948:
BELL, Hugh Philip; university professor: b. Halifax, N.S., 22 Feb. 1889: s. Charles; e. Halifax Co. Acad.; Dalhousie Univ., B.Sc. 1912, M.Sc. 1914; Univ. of Toronto, M.A. 1920, Ph.D. 1922; m. Mary Marguerite Lawson, 8 Aug. 1917; PROFESSOR OF BOTANY, DALHOUSIE UNIVERSITY; vice-princ., Lunenburg Acad., 1912: Morris St. sch., Halifax, 1914: served in World War, 1914-19; capt., 40th Bn., and in France with Roy. Candn. Regt.; wounded;. Protestant; Address 53 Oakland Rd., Halifax, N.S.
Obituary; Halifax Mail Star, Saturday, October 26, 1957. (Source.)
IN MEMORIAM
Former head of Dalhousie University biology department and noted botanist, Dr. Hugh Philip Bell died at his home, 53 Oakland Road, Friday night at the age of 68. Educated in Halifax schools, Dr. Bell attended Dalhousie University where he studied botany and played an active part in college activities. He was for a time teacher at Morris Street school, Halifax, Lunenburg Academy and Cape Breton schools.
During World War One he served as captain with the RCRs in France where he was severely wounded. On returning from the war he received his doctor of philosophy degree from the University of Toronto then joined the staff of Dalhousie as professor. He was appointed head of the University botany department and was a member of the University senate - posts he held until his retirement three years ago.
Following his retirement Dr. Bell became an associate of the Nova Scotia Research Foundation. He had published about 50 scientific papers on development of Nova Scotia plants dealing in particular with apples and blueberries. Besides his wife the former Marjorie Lawson, he is survived by two sons, James, Chatham, Ont.; Mitchell, Newcastle, N.B.; two daughters, Peggy, wife of Dr. Anthony Woolhouse, Montreal; Janet (Mrs. Barrie Humphrey), Hamilton, Ont. Funeral services will be held Monday at 2 p.m. at St. Matthew's church. The remains will be taken to Saint John, N.B., for cremation.
Regimental Obituary Notice
Capt Bell's death is noted in the Spring 1958 edition of The Connecting File:
In Memoriam
Capt Hugh P. Bell
At Halifax, Nova Scotia, on the 25th October 1957. Capt Bell served with the Regiment during World War I, and was a member of the Cornwallis Branch, Canadian Legion.
Date of Birth - 22 Feb 1889; Halifax, Nova Scotia
Date of Death - 25 Oct 1957; Halifax, Nova Scotia