The First World War
Officers of The Royal Canadian Regiment
Maj Allison Hart Borden, D.S.O.
Soldiers of the First World War database entry - A.H. Borden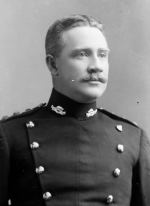 Capt. A.H. Borden, 1905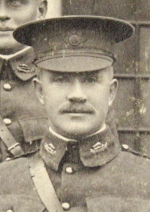 Capt. A.H. Borden, 1906
Service:
2nd Lieut., 68th Regt, 30 Nov 1902
Lieut 68th Regt, 30 Apr 1904
Regimental Service, The RCR: 1904-1923
Capt., The RCR, 1 Aug 1907
Capt., No. 4 Depot, Halifax, Nova Scotia, 1911
D.A.A.G. 1 Apr 1911
First World War - British War Medal, Victory Medal. D.S.O.
Maj, The RCR, 26 Jun 1915
D.A.A. & Q.M.G., M.D. 6, 1915.
Comdg. Can. Trg. England, 1916.
Comdg. 15th Inf. Bde., 1917.
SUPPLEMENT TO THE LONDON GAZETTE, 5 JULY, 1918; Awarded the Distiguished Service Order - Lt.-Col. Allison Hart Borden, Infy.
A.A. & Q.MG., M.D. 6, 1919.
G.S.O. 1, M.D. 10, 1920.
D.O.C., M.D. 2, 1923.
Colonel Commandant, 1923.
Distinguished Service Order (DSO) Citation
SUPPLEMENT TO THE LONDON GAZETTE, 5 JULY, 1918; 2 July 1918, Issue number: 30780, Page number: 7890
For conspicuous gallantry and devotion to duty. By his personal reconnaissance prior to the attack, in the face of great danger from machine-gun and rifle fire, he obtained sufficient information to modify his plans so as to deal with the unexpected situation caused by the enemy's counter-attack. With complete disregard for his own safety, he made a tour of the line, making the necessary adjustments in dispositions to ensure its being held. His example to his battalion was magnificent, and his determination, courageous conduct, and skilful leadership inspired all ranks to hold on to their objective, even though their losses were very heavy.
Death Notice (from regimental records):
Colonel Allison Hart Borden died on the 19th July 1932. Colonel Borden was first appointed to the Regiment on the 1st August 1907.
The Connecting File, Vol. XI, No. 4, November, 1932
Col. Allison H. Borden, D.S.O., organizer of the famous Nova Scotia Highland Brigade, first overseas commander of the Nova Scotia Highlanders, scholar and teacher, died at his home recently, following an attack of heart trouble. He was 54 years of age.
Colonel Borden entered the permanent militia as a young man, and at the outbreak of the Great War he was considered one of Nova Scotia's foremost soldiers. It was due to his efforts that the "Fighting 85th" came into being, and applications for enlistment under his leadership came in so fast that he made up his mind there was room for other regiments. Later he organized the 185th Cape Breton Highlanders, the 193rd Pictou and Cumberland Highlanders and the 219th Highlanders from western and central Nova Scotia.
Recruiting in these units was stimulated by vigorous speeches made by the Colonel throughout the province.
The story of how the four regiments went overseas, how the 85th, with added strength from the other units was bolstered from time to time as whole companies of gallant fighters "passed on" in Flanders Field, has already been recorded in history. How the Colonel carried on until it was no longer possible to carry on, how His Majesty King George awarded him the honors of the Distinguished Service Order—that also has been recorded in history.
Soon after the close of the war, Colonel Borden was appointed officer commanding military district No. 4., Toronto, and after serving there for several years he retired from active military work.
He continued his interest until his death, however, and was a staunch friend of the war veterans. He was honorary president of the Kings County branch, Canadian Legion, and a member of the executive of the provincial command of the Legion.
A Liberal in politics, he contested the constituency of Kings County in the provincial election of 1925, but that was the year the Conservatives swept the province, and he was defeated.
Born at Cornwall, a son of the late Rev. Jonathan Borden, a Methodist preacher, Allison Borden walked five miles daily to Kentville in his youth to attend school. He graduated from King's County Academy and taught school for several years before going on to Mount Allison University.
After graduating from Mount Allison he returned to teaching but soon turned his attention to military training. Entering the permanent force, he made such progress that he decided to make a life's work of soldiering.
He maintained his interest in Mount Allison University, and a few weeks before his death was elected president of the Hants-Kings Alumni Association.
He was a cousin of Sir Robert Borden, Canada's war-time Prime Minister, and the late Sir Frederick Borden, former Canadian Minister of Militia.
Date of Birth - 31 March 1878