The First World War
Officers of The Royal Canadian Regiment
Brevet Major Georges Rodolphe Bouchard
Soldiers of the First World War database entry - G.R. Bouchard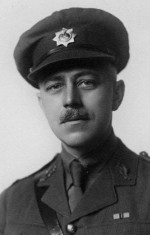 Brevet Major Georges Rodolphe Bouchard
Service:
Lieut., 86th Regt, Canadian Militia, 9 Nov 1909
Long Course RMC Kingston (dates tbc)
Musketry Course, Rockcliffe (Canada) (dates tbc)
Captain, 86th Regt, Canadian Militia, Apr 1913
Regimental Service, The R.C.R.: 1913 - 1921
Lieut., The R.C.R., 13 Aug 1913
First World War - Wounded. British War Medal, Victory Medal.
Attached 41st Battalion, C.E.F., 8 Apr 1915; Captain and Adjutant
Trench Warfare Course, Aldershot (dates tbc)
Major, 41st Battalion, C.E.F., 15 Oct 1915
Officer Commanding 41st Battalion, C.E.F., 13 Dec 1915
Posted General List 20 Apr 1916
Attached 23rd Reserve Battalion, 20 Apr 1916
Officer Commanding 1st Canadian Training Brigade Schools, 1 Jun 1916
Brigade Major, 4th Canadian Infantry Brigade, 1 Aug 1916
Second in Command, 64th Battalion, C.E.F., 29 Nov 1916
Officer I/C Courts Martial HQ TRoop, 1 Mar 1917
Joined The R.C.R. in France, 12 Aug 1917
Taken on strength supernumary to establishment 7 Aug 117
Wounded in Action; gassed, 30 Oct 1917
Evacuated to Casualty Clearing Station 31 Oct 1917
Rejoined fron C.C.R.C. 28 Jan 1918
Appointed Town Major Ferfay
Appointed Deputy Commander Lieus (sic)
To be Officer Commanding 8th Canadian Area Empl. Co.
G.S.O. 2, M.D. 5, (temp.) 1919.
D.A.A. & Q.M.G., M.D. 5, 1921.
Transferred to R. 22nd Regt.
D.A.A. & Q.M.G., M.D. 4, 1928.
A.A. & Q.M.G., M.D. 5, 1928.
King George V Coronation Medal.
Raphaël OUIMET, éd., Biographies canadiennes françaises, treizième édition, Montréal, 1937.
Lieutenant-Colonel Georges-Rodolphe Bouchard; Officier de la réserve de la milice active permanente du Canada Né le 22 juin 1883, à Montréal, fils aîné de Edmond-Rodolphe, de la maison Hector Lamontagne Ltée, marchands de cuir, Montréal, et de Marie-Clara-Halida Leclaire, aussi de Montréal.
Fit ses études chez les Frères des Écoles Chrétiennes à Montréal. Entra dans la milice active non-permanente, comme soldat, en 1898 et plus tard devint lieutenant et capitaine au 86e Régiment des Trois-Rivières. Après un cours d'officier au Collège Royal Militaire de Kingston, il fut nommé lieutenant au "Royal Canadian Regiment", unité de la milice active permanente. En 1911, il fut choisi pour représenter le 86e Régiment au couronnement de Sa Majesté le Roi George V. Au commencement de la Grande Guerre, le 10 septembre 1914, il partait avec le "Royal Canadian Regiment" pour les Bermudes d'où il fut rappelé pour devenir adjudant et ensuite commandant du 41e Bataillon, Corps Expéditionnaire Canadien. Il fut ensuite attaché à différents quartiers-généraux importants où son expérience du service fut mise à profit. Plus tard, il fut rappelé au "Royal Canadian Regiment" en France. Avec cette dernière unité, il prit part à plusieurs engagements, parmi lesquels, Lens (Côte 70) et Passchendaele, où il fut blessé dangereusement et brûlé par le gaz d'obus. Il revint au Canada en juillet 1919 et servit à Montréal et à Québec en qualité d'officier d'état-major des Districts Militaires numéros 4 et 5 jusqu'en septembre 1935, alors qu'il se retira avec le grade de lieutenant-colonel.
Membre du Club de la Garnison, Québec; du "United Services Club", Montréal; du Club de Golf de Loretteville; du "Quebec Ski Club"; du club des Journalistes de Québec; membre du comité de direction de l'Institut Militaire de Québec et membre à vie de l' "Army & Navy Veterans in Canada".
Ses récréations favorites sont : la chasse, la pêche, le golf et les recherches généalogiques et historiques.
Le premier de juillet 1907, il épousa Marie-Emélie-Berthe Lamontagne, fille de Trefflé Lamontagne, en son vivant greffier de la ville de Montréal et de Marie Poulin de Courval. De ce mariage quatre enfants sont nés. Georges-Édouard, arpenteur-géomètre et ingénieur forestier, Louis-Gustave, de la maison Hector Lamontagne Ltée, Gisèle et Mireille.
Ayant toujours été avant tout un militaire de profession, il ne s'est jamais occupé de politique et n'a pas de parti attitré. II occupe sa propriété de Loretteville.
Le lieutenant-colonel Bouchard descend des trois groupes de Français qui ont été les premiers habitants du Canada et de l'Acadie. Du groupe des premiers habitants de Québec, par Claude Bouchard, marié à Québec à Louise Gasnier, en 1654. Du groupe des premiers habitants de Montréal, par Guillaume Le Clerc, marié à Montréal à Marie-Thérèse Hunault, le 24 novembre 1676, et du groupe acadien, par Blanche-Agathe LeBlanc, son arrière grand'mère paternelle et elle-même descendante de Daniel LeBlanc et de Françoise Gaudet, mariés à Port Royal, en 1650. Blanche-Agathe était la petite-fille de René LeBlanc, notaire royal à la Grand'Prée, chanté par Longfellow dans son poème "Évangéline".
De par la mère de son père, Marie-Esther-Herméline d'Odet d'Orsonnens, il descend d'une famille patricienne de Suisse qui trace ses origines jusqu'au 16e siècle. L'Armorial de France et les Archives de la Bibliothèque Nationale de Genève signalent en grand nombre, de ses ascendants en ligne directe, qui se sont distingués dans les armées et dans les charges publiques européennes.