The First World War
Officers of The Royal Canadian Regiment
Lieut. Harold Staples Brewster
Soldiers of the First World War database entry - H.S. Brewster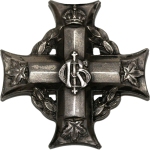 Service:
C.O.T.C. Toronto
Struck off Strength of The R.C.R. 15 Aug 1916, on proceeding to England for training as Pilot, R.F.C.
Died in England 6 Dec 1916
Buried Brantford (Mount Hope) Cemetery, Brantford Twp, Brant Co., ON
Lieut. Brewster is buried in the Brantford (Mount Hope) Cemetery; Ontario, Canada
Commonwealth War Graves Commission: H.S. Brewster
Flight (RFC/RAF Magazine), 14 December 1916
The Roll of Honour
"At an inquest on Lieut. H.S. Brewster, Royal Canadians, attd. R.F.C., who was killed Dec 6th, while flying, the evidence showed that when at a height of about 200 ft. his machine nose-dived and crashed to earth, Lieut. Brewster being killed instantly. It was thought he attempted to descend too steeply."
"A verdict of "Accidental death" was returned.
Lt. Harold S. Brewster. Lieutenant Harold Staples Brewster. Son of W.S. Brewster, Barrister, of Brantford, Ontario. B.A. University of Toronto, 1914. Admitted as a law student in 1914 at age 21. Lieutenant Royal Flying Corps. Killed in action December 1916. Never called to the bar.
Date of Birth 15 Jul 1894