The First World War
Officers of The Royal Canadian Regiment
Lieut. Randolph Winston Churchill
Soldiers of the First World War database entry - R.W. Churchill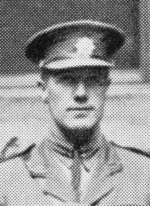 Lieut. Randolph Winston Churchill (Nov. 1918)
Service:
Gazetted in the Canadian Garrison Artillery, 14 Nov 1914
Qualified as Signalling Officer in the School of Signalling, Halifax, N.S., July 1915
Transferred to the 64th Canadian Infantry Battalion, C.E.F., as Signalling Officer, August 1915
Musketry Officer, Rockcliffe, October 1915
Transferred to the 112th Battalion with rank of Captain, 24 Nov 1915
Signed the Officer's Declaration for overseas service, 1 Dec 1915
Sailed from Canada, 23 Jul 1916
Three weeks General Course, Div. School, Bramshott
Three weeks Drill Course, Div. School, Bramshott
Joined The R.C.R., 26 Apr 1917
Wounded in action, gun shot wound, right arm, 9 Jun 1917
SUPPLEMENT TO THE LONDON GAZETTE, 5 SEPTEMBER, 1917; R. Can. R. - Temp. Capt. R. W. Churchill reverts to the temp, rank of Lt. 25 Apr. 1917.
Rejoined The R.C.R., 19 Nov 1917
To Field Ambulance and evacuated to C.C.S., 11 Jun 1918
Invalided (injured by accident) and detached to the Nova Scotia Regimental Depot (N.S.R.D.), 11 Jun 1918
Arrived France, 22 Oct 1918
Joined The R.C.R., 28 Oct 1918
Courses:

Canadian Garrison Artillery; Royal School of Artillery, Halifax
Signalling; Royal School of Signalling, Halifax
Captain's Course; Royal School of Infantry, Halifax, July 1916
Musketry Course, Rockcliffe, Ontario
Drill, Map Reading, Gas; Divisional School, Bramshott
Biographical Notes (Source), by Elizabeth Churchill Snell.
Randolph Winston Churchill joined the First Regiment, Canadian Garrison Artillery, mobilized in 1914. He was commissioned in the 112th Battalion, 1915, and sent overseas aboard H.M.T. Olympic (sister ship of the Titanic and a troop transport during the war) in July 1916. After training at Bramshott, Randolph was sent to France, having requested reversion in rank to get into the fighting. He was wounded six weeks later in an attack on the Vimy-Avion rail way embankment and hospitalized at Etaples, then Manchester, Broadstairs and Chester. At this point Winston the Englishman reputedly asked to meet him. Whether he did is not clear. Randolph returned to Canada in 1917, in time to assist in relief work following the terrible explosion there that year. But by January 1918 he was back in the European war, wounded again, hospitalized again, and recovered. He was at Mons on 11 November 1918 for the signing of the Armistice at the time Winston the Englishman was at his Ministry of Munitions HQ, looking down upon the pandemonium in Northumberland Avenue as Big Ben struck the eleventh hour of the eleventh day of the eleventh rnonth - about which he writes so movingly in the last chapter covering 1918 in The World Crisis.
Date of Birth - 23 Dec 1888