The First World War
Officers of The Royal Canadian Regiment
Lieut. Irwin Davis
Soldiers of the First World War database entry - I. Davis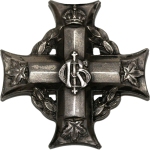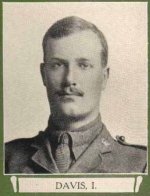 From "The War Book of Upper Canada College", edited by Archibald Hope Young, Toronto, 1923.
Service:
Prior service; 11th Regt., Irish Fusiliers of Canada
Attested for 121st Overseas Battalion, 1 May 1916
Drafted unattached to C.M.S., Aug 1916
Posted to The R.C.R., 4 Oct 1916
Joined The R.C.R. from overseas, 10 Oct 1916
Wounded in action, 1 Nov 1916
Evacuated
Died of wounds in England, 4 Dec 1916
Lieut. Davis is buried in the Eastbrookend (Dagenham) Cemetery; Essex, United Kingdom.
Canadian Virtual War Memorial: I. Davis
Date of Birth - 8 Mar 1895