The First World War
Officers of The Royal Canadian Regiment
Major Ernest Louis Lerocq du Domaine
Soldiers of the First World War database entry - E.L.L. du Domaine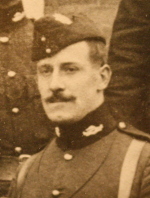 Lieut. Ernest Louis Lerocq du Domaine. Photo taken while serving with the 3rd (Special Service) Battalion, The R.C.R., in Halifax, 1900.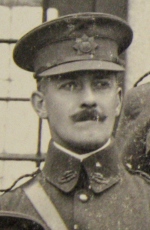 Lieut. E.L.L. du Domaine (1906).
Service:
First appointment, Canadian Militia, March 1900
3rd (Special Service) Battalion, The R.C.R., June 1900
School of Musketry, Ottawa, 1903
Lieut., The R.C.R., Jun 1905
Acting Adjutant, The R.C.R. Depot, Quebec; May 1905 to Apr 1906
Adjutant, The R.C.R. Depot, Federicton; 1906 to 1910
Captain, The R.C.R., Sep 1909
Capt., No. 3 Depot, Fredericton, New Brunswick, 1911
Capt., Wellington Barracks, Halifax, Nova Scotia, 1912
First World War - British War Medal, Victory Medal
Officer Commanding "F" Company, McNab's and Lawlor Island, Halifax, as part of the Regiments initial deployent to the defences of Halifax, 31 Jul 1914
Served with The R.C.R. in Bermuda 1914-15
Officer Commanding "D" Coy in Bermuda on adoption of new 4-company organizaton, 1 Feb 1915
Officer Commanding "D" Coy overseas, on departure for England, 26 Aug 1916
Major, The R.C.R., 26 Aug 1916
Appointed second in command of a Reserve Battalion created to act as a Depot for The R.C.R. and the P.P.C.L.I., Sep 1915
SUPPLEMENT TO THE LONDON GAZETTE, 6 OCTOBER, 1917; R.C.R. & P.P.C.L.I. Temp. Maj. E. L. du Domaine reverts to the temp, rank of Lt. 15 June 1917.
Divisional Revolver Course, Bramshott; 1917 - Distinguished Pass
Taken on strength as reinforcement, 14 Dec 1917
Joined from C.C.R.C., 25 Jan 1918
Granted 14 days leave to U.K., 23 Mar 1918
Leave extended to 20 Apr 1918
Posted to Nova Scotia Regimental Depot on being medically unfit to return to France, 27 Apr 1918
Siberian British Mission, 1919.
Extract from The Times (London, England), Thursday March 30, 1933
Lieutenant-Colonel E.L. du Domaine and Miss M.I. Lancashire
The engagement is announced between Lieutenant-Colonel E.L. du Domaine, (late) The Royal Canadian Regiment, to Mary Irene, daughter of the late Henry Lancashire and of Mrs Lancashire, of Abbotsford, Cheltenham.
The Connecting File, September, 1949
In Memoriam (From the Gloster Echo)
Lieutenant Colonel Ernest Lerocq du Domaine died at his home. Newlandside, Sandylane, Charlton, Kings, Cheltenham, England, 6 September 1949.
Colonel du Domaine, who had been ill for some months, had lived in Cheltenham for 16 years.
British born, his father was a naturalized Englishman and his mother was English—he went out to Canada as a young man and joined The Royal Canadian Regiment.
He served continuously in the Regiment, taking part in the fighting in France during the First World War until his retirement in the 1920s.
A keen musician—he played a violin—he once played by Royal Command for Queen Victoria.
He leaves a widow and an adopted daughter and two sons of his first marriage are in business, one in Brantford, Ontario, and the other in Hollywood.
Date of Birth - 22 Sep 1873