The First World War
Officers of The Royal Canadian Regiment
Brevet Major William Seabright Fenton
Soldiers of the First World War database entry - W.S. Fenton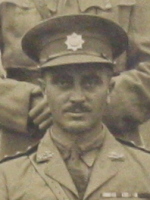 Captain W.S. Fenton, Valcartier Camp, 1920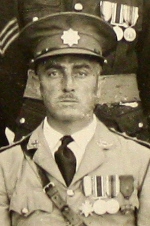 Captain W.S. Fenton, 1924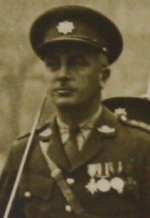 Major W.S. Fenton, 1930
Service:
Commissioned in the CEF, 1 Oct 1914
Regimental Service, The R.C.R.: 1915 - still serving in 1935
First World War - 1914-15 Star, British War Medal, Victory Medal, French War Cross.
Sailed from canada, 28 Jan 1915
Arrived in France, 1 Nov 1915
Invalided to England, 2 May 1916
Staff Captain, Can. Training Area, England, 30 Dec 1916 to 1 Nov 1917
Taken on strength as a reinforcement, 23 Nov 1917
Rejoined from C.B.D., 27 Nov 1917
14 days leave to U.K., 3 Mar 1918
SUPPLEMENT TO THE LONDON GAZETTE, 30 DECEMBER, 1918; Nova Scotia Regt. - The undermentioned temp. Lts. to be temp. Capts.:- W.S. Fenton, 5 June 1918.
SUPPLEMENT TO THE LONDON GAZETTE, 7 JANUARY, 1919; Decorations and Medals conferred by THE PRESIDENT OF THE FRENCH REPUBLIC; Croix de Guerre - Lieutenant William Seabright Fenton, Royal Canadian Regiment.
Adjutant, The R.C.R.: 1920
District Weapon Training Officer (D.W.T.O.), M.D. No. 1; 30 Dec 1924.
Vacates the appointment of District Weapon Training Officer, Military District No. 1; 1 May 1926
Reported in the Sep 1926 Connecting File: "B Company, The RCR, furnished a Guard of Honour, under Captain W.S. Fenton and Capt W,J, HOme, MC, on the occasion of the official farewell of the City of Toronto to Lord Byng of Vimy, Governor-General of Canada, on the eve of his departure from Canada. After his inspection the Governor-General complimented Captain Fenton on the smart soldierly appearance of the Guard." (The Guard of Honour took place on 21 Sep 1926.)
Instructor of Tactics, R.M.C., 31 Jan 1929.
2 May 1930; To be Brevet Major.
Assist. Dir. of Org. 1935.
King George V Silver Jubilee Medal (1935), awarded on 6 May 1936.
King George VI Coronation Medal (1937).
N.D.H.Q., Ottawa; appointment identified as at 15 Nov 1937
1938; Appointed Secretary to the Deputy Minister.
27 Jul 1938; To be Temporary Lieut.-Col.
1 Nov 1938; Promoted Major
SUPPLEMENT TO THE LONDON GAZETTE, 13 JUNE, 1946; Officers of the Military Division of the said Most Excellent Order of the British Empire:- Lieutenant-Colonel William Seabright FENTON, Canadian Infantry Corps.
Date of Birth - 4 Aug 1886