The First World War
Officers of The Royal Canadian Regiment
Capt. David Dawson Freeze, M.C.
(Medical Officer)
Soldiers of the First World War database entry - D.D. Freeze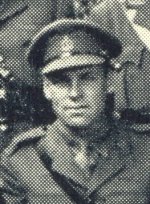 Capt. David Dawson Freeze, M.C. (1918)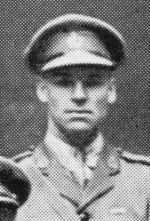 Capt. David Dawson Freeze, M.C. (Nov. 1918)
Service:
Prior service: 4 years, 74th Regiment
Attested for service wth the 104th Overseas Battalion, C.E.F.
Sailed from Canada 29 Jun 1916
Attached The R.C.R. as in War Estabishment with effect from 1 Oct 1917
Leave to U.K. 1 Dec 1917 to 19 Dec 1917
Leave to U.K. 12 Jul 1918
M.C. Citation
- SUPPLEMENT TO THE LONDON GAZETTE, 11 JANUARY, 1919.
Capt. David Dawson Freeze, Can. A.M.C., attd. B. Can. R. - In an attack he displayed great courage in dressing wounded under heavy shell and machine-gun fire. He followed close up with the battalion in the attack and, in the most exposed position, he continued to dressthe wounded and organise carrying parties, so that all the battalion casualties were evacuated in very short time. After the objective had been reached he proceeded in advance under heavy machine-gun fire, and dressed the wounds of a large number of the enemy and evacuated them. Learning that a number of men of another division were lying in front of our line, having been wounded two days previously, he proceeded under heavy fire, dressed their wounds and supervised their evacuation. His devotion to duty throughout was admirable.
Obituary - Doctor David Dawson Freeze
The death of Doctor David Dawson Freeze, former Director of Anaesthesia at the Vancouver General Hospital, and an Honorar) Member of the Canadian Anaesthetists' Society, occurred in Vancouver, British Columbia, on August 7th, 1962.
The deceased was born in Fredericton, New Brunswick, and received his early education at the Sussex, N.B. Grammar School. Following employment with the Bank of Nova Scotia, he entered McGill University ir 1907, and graduated with the degree of M.D., CM., in 1912. During the period 1912-15 Dr. Freeze was the first Resident Physician at the Provincial Mental Hospital at Essondale, B.C.
Dr. Freeze had a distinguished record in the First World War as a medical officer with The Royal Canadian Regiment and was awarded the Military Cross for meritorious service. He also served in the Military Hospital in Taplow.
On discharge from the armed forces, Dr. Freeze was on the Anaesthetic Staff of the Royal Victoria Hospital, Montreal, for a short period. He returned to Vancouver in 1919, and was appointed Director of Anaesthesia at the Vancouver General Hospital, which position he held until 1947, a period of twenty-eight years. Following his resignation as Director, he continued his association in the private practice of anaesthesia with Associated Anaesthetic Services until 1959, when he retired from the active practice of anaesthesia.
Dr. Freeze was a member of the Alpha Kappa Kappa Fraternity and the Jericho Golf Club, a Life Member of the College of Physicians and Surgeons of British Columbia, and on the Honorary Consulting Staff of the Vancouver General Hospital. In 1953, he was elected an Honorary Member of the Canadian Anaesthetists' Society.
Many of us knew Dave Freeze only in the later years of his life. We all developed a deep affection for him and respect for his clinical acuity, especially in the field of Anaesthesia for Urology. He always maintained an active interest in anaesthesia and in the affairs of the Canadian Anaesthetists' Society.
Dr. Freeze was truly a pioneer of Canadian anaesthesia and his passing is deeply regretted by his former associates, and by the Members of the British Columbia Division, Canadian Anaesthetists' Society.
He is survived by his widow; one son, Dr. Allan Freeze, D.D.S.; and three grandchildren. Dr. Freeze was 77 years of age at the time of his death. - H.B.G. (Source - Canadian Journal of Anesthenia, 1 Nov 1962, Vol 9, Issue 6.)
Date of Birth - 14 Oct 1884