The First World War
Officers of The Royal Canadian Regiment
Lieut. Robert Noble Gilmour
Soldiers of the First World War database entry - R.N. Gilmour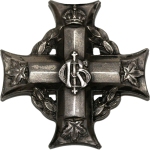 Service:
Prior service with the 28th Regt New Brunswick Dragoons
Served 5 weeks as a Private with the 236th Battalion, C.E.F., 10 Jul 1916 to 15 Aug 1916, regimental nmber 13036
Posted to C.M.S. Shorncliffe, 1 Sep 1916
Posted to The R.C.R., 26 Nov 1916
To 3rd Canadian Entrenching Battalion, 7 Mar 1917
Rejoined The R.C.R., 13 Apr 1917
SUPPLEMENT TO THELONDON GAZETTE, 27 AUGUST, 1917; Can. Forestry Corps. - The undermentioned temp. Lts. to be temp. Lts.:- R. N. Gilmour, from R.C.R., 25 July 1917.
Lieut. Gilmour is buried in the Brookwood Military Cemetery; Surrey, United Kingdom.
Canadian Virtual War Memorial: R.N. Gilmour
Date of Birth - 20 May 1885