The First World War
Officers of The Royal Canadian Regiment
Lieut. Gordon Scott Hopkins
Soldiers of the First World War database entry - G.S. Hopkins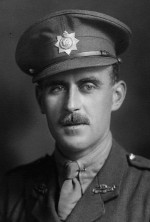 Lieut. Gordon Scott Hopkins
Service:
Prior service; 1 year, 2nd Volunteer Battalion South Wales Borderers
Prior service; 5 years Royal Gloucestershire Hussars I.Y., 1901 - 1906
Prior service; 1 year, 6th Duke of Connaught's Own Rifles, 1915
Gazetted April 1916
Canadian Pioneer Train Depot, Jul - Sep 1916
3rd Bn., Canadian Pioneers (48th Bn.), Oct 1916
7th Canadian Infantry Battalion, May 1917
Joined The R.C.R., 11 Jun 1917
Wounded in action (gassed), 8 Nov 1917
On command, 8th Battalion as (??) 8 Oct 1917
Granted 14 days leave to U.K., 26 Nov 1917 to 11 Dec 1917
Transferrred to England and detached to Nova Scotia Regimental Depot, 13 Jan 1918
Participated in Dunsterforce; "an Allied military mission of under 1,000 Australian, British, Canadian and New Zealand elite troops (drawn from the Mesopotamian and Western Fronts), accompanied by armoured cars, deployed from Hamadan some 350 km across Qajar Persia." (See also this article from the Canadian Army Journal.)
Biograhical note. (Source)
Capt. Gordon Scott Hopkins, 33, of Hopkins Landing on the Sunshine Coast, was a mechanical engineer and master mariner.
Date of Birth - 9 Apr 1885