The First World War
Officers of The Royal Canadian Regiment
Lieut. Hugo Grant Jones
Soldiers of the First World War database entry - Lieut. H.G. Jones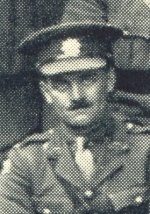 Lieut. Hugo Grant Jones (1918)
Service:
Prior service; 6 years, 176 days, Manchester Regiment, discharged 11 Jan 1907 for service in The R.C.R., regimental numbers 9181 and 477475
Served in Bermuda with The RCR; Band Sergeant
Canada, with The R.C.R., Aug 1915 to Sep 1915
England, with The R.C.R., Sep 1915 to Nov 1915
France, with The R.C.R., Nov 1915 to Sep 1917
Officers' Training Course, Bexhill on Sea
Courses:

Musketry
Machine Gun
Physical Training & Bayonet Fighting
Gwendolyn Stephen Thompson
Wiring & Entrenching
Rifle Bombing
Hand Bombing
Anti-Gas
Drill
Revolver Course, 1st Class, Score 182

Commissioned, 27 Jan 1918
SUPPLEMENT TO THE LONDON GAZETTE, 12 FEBRUARY, 1918; Nova Scotia Regt. - The undermentioned to be temp. Lts.:- No. 477475 Co. Serjt.-Maj. H.G. Jones
Regimental service as a Commissioned Officer - 1920, resigned same year.
Date of Birth - 26 Jun 1885.