The First World War
Officers of The Royal Canadian Regiment
Lieut. Clarence Edward Kinton
Soldiers of the First World War database entry - C.E. Kinton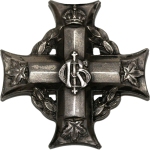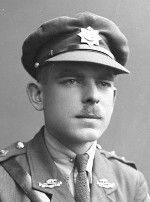 Lieut. Clarence Edward Kinton
(Source: LAC/PA-007426)
Service:
Prior service; Lieutenant in the 77th Regiment (4 months)
Attested for service with the 97th Overseas Battalion, C.E.F.
One year, 2nd Division Corps of Guides
6 months, 95th Battalion, C.E.F.
8 months, 97th Battalion, C.E.F.
Joined The R.C.R., 6 Dec 1916
Appointed 3rd Division Reg. Offr., 6 Mar 1917
Proceeded to England, 2 May 1918
Attached on probation to Royal Air Force as Observer.
Detached to Nova Scotia Regimental Depot, 5 Aug 1918
THE LONDON GAZETTE, 17 SEPTEMBER, 1918; ROYAL AIR FORCE - The undermentioned are granted temporary commissions as 2nd Lts. (Observer Officers):- C. E. Kinton (Lt., Nova Scotia R., C.E.F.), and to be Hon. Lt., 29th Aug. 1918.
SUPPLEMENT TO THE LONDON GAZETTE, 9 NOVEMBER, 1918; Nova Scotia Regt. - Temp. Lt. C. E. Kinton is seconded, for duty with the R.A.F. 5 May 1918
Shot down and killed over Douai, France, while serving with 57 Squadron, 5 Sep 1918
Lieut. Kinton is buried in the Sin-Le-Noble Communal Cemetery; Nord, France.
Canadian Virtual War Memorial: C.E. Kinton
Flight (RFC/RAF Magazine), 26 September 1918
"The following are granted temp, commns. as Sec. Lieuts. (Obs. Officers):- C. E. Kinton (Lieut., Nova Scotia R., C.E.F.), and to be Hon. Lieut.
Guestbook entry at inmemories.com (Source)
26-07-2007 - My great-uncle was Clarence Edward Kinton who is buried in Sin-Le-Noble. He was born in Huntsville, Ontario on July 7, 1892, the son of Mackie and Mary Kinton and was shot down over Douai. He was originally buried as an unknown airman but his brother T. L. Derwent Kinton (my grandfather), who was serving in the Canadian army, was able to identify him some time later. My father who was named for him, was killed with the RCAF in the Second War (26 Nov 1944) and is buried in Harrogate, England. - David Clare Kinton
Date of Birth - 7 Jul 1892