The First World War
Officers of The Royal Canadian Regiment
Lieut. Lloyd Ernest Longley
Soldiers of the First World War database entry - L.E. Longley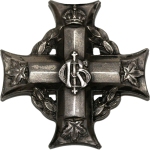 Service:
Gazetted 9 Aug 1915
Prior service; 69th Regiment (7 years); 112th Battalion, C.E.F. (7 months)
Arrived England 18 Sep 1916
To C.M.S. until 30 Dec 1916
Take on strength as reinforcement, 2 May 1917
Joined The R.C.R. 8 May 1917
Wounded in action, at duty, 9 Jul 1917
Wounded in action, 15 Nov 1917
Invaided to England 24 Nov 1917 and detached to the Nova Scotia Regimental Depot
Taken on Strength from England, Joined from C.C.R.C., 4 Jun 1918
Killed in action 26 Aug 1918
Buried at O.2.a.3.3, 51b, Ref 163, 3rd Div. Burial Officer
Lieut. Longley is buried in the Dury Crucifix Cemetery; Pas de Calais, France.
Canadian Virtual War Memorial: L.E. Longley
Lieut Longley appears on the Roll of Honour of the Nova Scotia Agricultural College.
Date of Birth - 22 Jun 1894