The First World War
Officers of The Royal Canadian Regiment
Lieut. James Thomas Probert, M.C.
Soldiers of the First World War database entry - J.T. Probert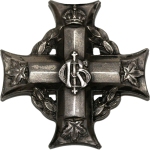 Service:
Prior service:

6 years, 63rd Regiment, Halifax Rifles
10 mnths, H.Q., Military District No. 6 (8 mos. Staff Segeant, 2 mos. Lieut.)
7 months, 76th Regiment, Colchester County (at time of attestation on 12 Jul 1916)

C.E.F., as Assistant Adjutant, 16 Mar 1916
Commissioned 28 Jan 1917
11 weeks Pirbright England, on General Course
Joined The R.C.R., 1 May 1917
10 days leave to England, 21 Oct 1917
14 days leave to Naples, 13 Feb 1918
Wounded in action, at duty, 19 Apr 1918
Awarded the Military Cross, 17 May 1918
Kiled in action, 30 Sep 1918
Buried at Crest Cemetery
Lieut. Probert is buried in the Crest Cemetery; Nord, France.
Canadian Virtual War Memorial: J.T. Probert
M.C. Citation
SUPPLEMENT TO THE LONDON GAZETTE, 16 SEPTEMBER, 1918; 13 September 1918, Issue number: 30901
Lt. James Thomas Probert, Nova Scotia Regt. - For conspicuous gallantry and devotion to duty. This officer led a raiding party against an enemy post. In the first attempt he was wounded, and all the bombs were expended; but after fetching up more the post was reached and the garrison driven into a dug-out in rear, a machine gun and other materiel being captured. He was wounded a second time, but persisted until his objective was gained.
Date of Birth - 22 Aug 1892