The First World War
Officers of The Royal Canadian Regiment
Major Eber Egerton Snider
Soldiers of the First World War database entry - E.E. Snider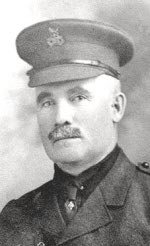 Colonel E.E. Snider
Service:
Prior service:

46th Battalion, Canadian Militia, Reserve during Riel Rebellion, 1885 - 1886
15th Argyll Light Infantry, 1886 - 1887
School Cadet Corps, 1891 - 1914

Instructor, School Cadet Corps, 1891-1909
Lieut., School Cadet Corps, 1891-1909
Capt, School Cadet Corps, 1891-1909
Major, C.E.F., Nov 1915
Junior Major, 139th Canadian Overseas Battalion, C.E.F.
Senior Major, 2nd in Command, 139th Bn., Mar 1916
Officer In Command (O.I.C.) of Training, 188th Battalion, Oct 1916
Company Commander, 15th Canadian Reserve Battalion, Jan 1917
Date of Birth - 18 Jun 1866
Married - 12 Nov 1891, to Jane Dryden Cairns (Three children).
Date of Death - 16 Jan 1945
Biographical Notes (Source)
Eber Egerton Snider was born June 16, 1866, in either Belleville, Ont, or Ameliasburgh Township, an 'historic township in southern Ontario, one of the three original townships that formed Prince Edward County. The other two townships were Marysburgh and Sophiasburgh. Originally known as Seventh Town, it was renamed in 1787 after Princess Amelia, the youngest child of George III.'
Eber's father died when Eber was about four years old. His mother remarried, to Samuel Jarvis Maybee, of Hamilton Township. While living there Eber attended Port Hope High School about 1879-1883. After high school he went to Albert College in Belleville, but would have left there when it was downgraded from a college to a high school in 1884. From Albert he went to Victoria College in Cobourg where he graduated in 1890.
From about 1891-1894 he was a science teacher at Mount Forest High School in Wellington County. On Nov 12, 1891 he married Jane Dryden Cairns in nearby Harriston, Ont. 12 years, about 1895-1907, he was Principal of Arthur High School where he was also a cadet instructor. He became Principal of PHHS in 1908.
In 1916 he went to France as a Major with the Canadian Over-Seas Expeditionary Force, and in 1917 was appointed Town Major of the French village of Allouagne. In 1918 he was invalided home and resumed his job as Principal of PHHS until 1919. 'Retaining his connection with the militia, he was raised to the rank of full colonel in the Midland Regiment.'
Eber Egerton Snider became Inspector of Schools for Durham & Northumberland Counties in 1920 and continued in this position until his retirement in 1940. He died of a coronary thrombosis Jan 16, 1945 and is buried in St John's Cemetery, Port Hope.