The First World War
Officers of The Royal Canadian Regiment
Lieut. Hugh Samuel Taylor, M.M.
Soldiers of the First World War database entry - H.S. Taylor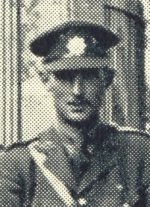 Lieut. Hugh Samuel Taylor, M.M. (1918)
Service:
Prior service; Corps of Guides
Taken on strength of The R.C.R. 9 Nov 1914 while the Regiment was in Bermuda, regimental number 16189
With The R.C.R. in Bermuda, Sep 1914 to Aug 1915
Service in France with The R.C.R., 1 Nov 1915 to 31 Jan 1918, regimental number 477907
SUPPLEMENT TO THE LONDON GAZETTE, 22 JUNE, 1918; Nova Scotia Regt. - The undermentioned to be temp. Lts.:- No. 477907 Serjt. H. S. Taylor, M.M., 6 June 1918
Courses:

O.T.C. Bexhill
4th Army School of Signalling
Musketry
Machine Gun
First Aid
Physical Training & Bayonet Fighting
Bombing
Wiring
Anti-Gas
Drill
Revolver

Arrived in France for service as an officer of The R.C.R., 11 Sep 1918
Joined The R.C.R. from C.C.R.C., 18 Sep 1918
Flight (RFC/RAF Magazine), 19 February 1920
"The following relinquish their temp. R.A.F. commns. on return to Army duty.- Lieut. H.S. Taylor, M.M. (Lieut., N. Scotia R.); Dec. 7, 1918.
Date of Birth - 1 Oct 1892