The First World War
Soldiers and Non-Commissioned Officers
of The Royal Canadian Regiment
---
514224 Private Joseph Gray Butler
(a.k.a. Joseph Cookson)
By: Captain Michael M. O'Leary, The RCR
Published in the regimental journal of The Royal Canadian Regiment, Pro Patria 2014
A Royal Canadian Returns Home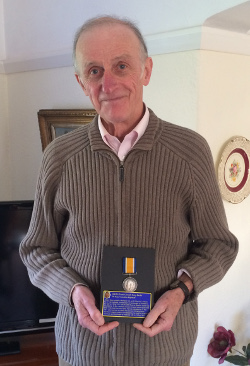 John Butler is shown holding his father's British War Medal.
On 25 October, 2014, I was contacted by email from the United Kingdom by Mandy Green, who was doing some genealogical research. Mandy had been asked by her husband to try and track down information on the father of a family friend, 76-year-old John Butler. As it turned out, Mandy's searches for "Joseph Gray Butler" led her to my website, The Regimental Rogue, and to the page where I had detailed Joseph Butler's First World War service with The Royal Canadian Regiment. My work on 514224 Private Butler Joseph Gray Butler was the result of researching him as the recipient of a British War Medal in my collection.
Mandy provided some corrections to the text I had prepared from Pte Butler's service record, and our exchange then turned to the question anticipated, or dreaded, by every collector; "would I consider selling the medal?" This would be a rare opportunity to reunite a son with a physical memento of his father. Joseph Butler had died in 1942 and his son, John, was an infant at the time.
I accepted the opportunity to return Pte Butler's medal to his son (at the same price paid in 2011) and the medal was on its way to Mandy. Shortly after its arrival, she visited John and, on Christmas Eve, 2014, kindly returned to me photos of herself and John with Joseph Gray's British War Medal.
---
514224 Private Joseph Gray Butler
(a.k.a. Joseph Cookson)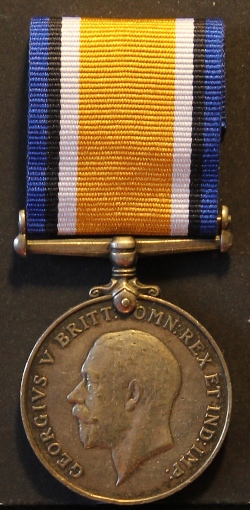 The British War Medal awarded to Private Joseph Gray Butler for his First World War service. Butler would also have received the Victory Medal.
"Ten days with the Regiment, one day in the trenches."
Joseph Gray Butler was born in Liverpool, England, on 8 Jul 1897.
Employed as a clerk, or as a ship's steward (his documents list both trades), Butler was in Amherst, Nova Scotia, early in 1917 when he decided to be a soldier. On 21 Mar 1917, he attested for service with the Canadian Expeditionary Force (C.E.F.) under the assumed name Joseph Cookson, using his mother's maiden name as his given surname. Enlisting with No. 2 Overseas Army Service Corps Training Depot (C.E.F.) Cookson was described on his attestation form as 19 years of age, 5-feet 7-inches in height, with a dark complexion, dark grey eyes and black hair. Butler listed his sister as his next of kin; Mrs Ellen Bell of 42 Dane St., Walton, England.
A month after joining the army, on 17 Apr 1917, Butler, in the name of Cookson completed a military Form of Will. He left all his personal estate to his sister. Within a few weeks he would be on his way overseas.
On 1 May 1917, Butler embarked in Canada for his transatlantic voyage. He disembarked in England two weeks later on 14 May 1917 and was taken on the strength of the Canadian Army Service Corps (C.A.S.C.) Reinforcement Depot at Shorncliffe. He remained here until 15 Aug 1917 when he was transferred to the 26th Reserve Battalion at Bramshott. This move indicates that he was leaving the Service Corps for employment in the infantry.
It was while he was serving with the 26th Reserve Battalion that Butler had second thoughts about having enlisted under a false name. On 17 Sep 1917, he completed a statement of declaration confirming his true identity:
"I, Joseph Gray Butler, do solemnly and sincerely declare that I was enlisted on the 19th March 1917 under the name of Joseph Cookson which name I now declare to be incorrect. The name of Joseph Gray Butler, contained in the accompanying Certificate of Birth, I now declare to be my true name, and I make the solemn declaration conscientiously believing the same to be true. And by virtue of the provisions of an Act made and passed in the Sixth Year of the reign of King William the Fourth, Chap. 62, entitled The Statutory Declaration Act, 1935."
(signed ) Joseph Gray Butler
Declared before me at Haslemere this 1st Oct 1917,
(signed) J.P. Allen Chandler, Justice of the Peace for the County of Surrey"
Authority was granted for Butler to declare his true name to be Joseph Grey Butler and the change was duly recoded in his service record: "Assumes his proper name of 514224 Pte Butler, Joseph Gray."
On 14 Oct 1917, Butler began his trip to the front lines, when he proceeded overseas from the 26th Reserve Battalion to The RCR. Landed in France on 15 Oct 1917 at the No. 3 Canadian Infantry Base Depot (C.I.B.D.), and the same day was shown as taken on the strength of The RCR. Two days later, on 17 Oct 1917, he left 3 C.I.B.D. for the Canadian Corps Reinforcement Camp (C.C.R.C.), reporting in two days later. From the C.C.R.C., he joined a draft for The RCR, and departed on 2 Nov 1917 to join his new Regiment.
Joseph Butler joined The RCR in the field on 5 Nov 1917. He would spend only ten days in the field with The Royal Canadian Regiment. As Butler reported for duty, The RCR was just returning from a demanding tour in the front lines. On 4 Nov 1917, the Regiment moved to OUTSKIRT FARM, a roll was called to confirm casualties, resulting in total casualties of 258 since the last days of October. Butler was one of 19 new soldiers taken on the strength of The RCR at the time towards making up battle losses.
The week starting on 5 Nov 1917 is summarized in the Battle Bar ledger held by Library and Archives Canada with the simple note "5-12 Nov 1917 – Training and Regrouping." These activities were conducted at WATOU in the Ypres Sector. This simple note fails to convey how busy the troops were going to be during that week. From the 8th until the 12th of November, the training syllabus for rifle companies included the following training subjects:
8 Nov 1917:

Physical Training.
Close Order Drill.
Smartening Up.
Specialist Training.
Route March (1 hour).

9 Nov 1917:

Physical Training.
Platoon Drill.
Platoon in Attack.
Musketry.

10 Nov 1917:

Physical Training.
Bayonet Fighting.
Musketry.
Platoon Drill.
Specialist Training.

11 Nov 1917:

Company in attack.
Company drill.
Bayonet Fighting.
Route march (2 hours).

12 Nov 1917:

Physical Training.
Tactical exercises.
Musketry.
Company drill.
Route March (1 1 / 2 hours).
In addition to the general syllabus for all companies, platoons and sections were to be exercised in "Cooperations and mutual support in attacking PILL BOXES, STRONG POINTS, etc., etc."
But even that was not all that welcomed Butler and the other newly joined soldiers to the Regiment. In order to bring new soldiers up to regimental standards, he faced the following requirement welcoming the new men:
"All men of the new draft will parade under the R.S.M. from 8.30 a.m. to 12.20 p.m. until further notice."
The War Diary also shows that the Regiment's schedule for preparing it to return to the lines was not all work. The same training syllabus found in the War Diary did specify that the afternoon of the 11th was reserved for sports and that the Band would play every afternoon in the Camp Ground at 3:00 p.m.
On 13 Nov 1917, The RCR moved back out of WATOUI and returned, by bus and marching, to OUTSKIRT FARM. From there, on 14 November, The RCR relieved the 58th Canadian Infantry Battalion in a position astride the PASSCHENDAELE – WESTBROOSEBEKE Road. Trench strength for the battalion was reported as 16 officer and 465 other ranks.
The morning of 15 November, Butler's first day in the trenches after the relief operation the night before. It was also to be his last day in the trenches. The day dawned with a heavy enemy barrage lasting from 5:40 to 7:30 a.m., retaliation for a friendly practice barrage executed at 5:40 a.m. that morning.
On 15 Nov 1917, Joseph Butler was wounded in action. The following day, on 16 Nov 1917, he was admitted to No. 12 Casualty Clearing Station (C.C.S.) with a shot wound in the neck caused by shrapnel. This began Butler's rearward movement through the medical evacuation system, a journey that would only end back in Canada. Having spent a single day in the trenches, he would not return to the front.
After three days in the C.C.S., Butler was transferred on 19 Nov 1917 by No. 28 Ambulance Train, arriving that same day to be admitted to No. 55 General Hospital at Boulogne. His injury at the time was described as "S.W. [shot wound] Neck; severe."
Butler remained in Boulogne until 27 Nov 1917 when he was evacuated across the Channel on the Hospital Ship Jan Breydel. With his evacuation to England, he was also struck off the strength of the RCR, being transferred to the Nova Scotia Regimental Depot (N.S.R.D.) This move cleared his position on The RCR's establishment, making space for a new soldier, and ensured continuity of care with a new unit in England responsible for his administration. He was officially taken on the strength of the N.S.R.D. on 28 Nov 1917.
Now in England, Butler was admitted to the 2nd Birmingham War Hospital. His records noting: "G.S.W. Neck, S.F.W slight" Wounded 16/11/17 small wound right of thyroid cartilage. On discharge, wound healed but fib (sic) in neck."
As Butler's wound healed, the medical system began to concern itself with the limitations it had created and his rehabilitative care. On 25 Feb 1918, he was transferred from 2nd Birmingham War Hospital to the Granville Canadian Special Hospital, specializing in orthopaedic cases. His record shows that his condition, on leaving the Birmingham War Hospital, was described as:
"Atrophy of deltoid trapezius, sapra and infraspinatus muscles, none react to faradism or galvanism except upper part of trapezius and deltoid and sterno mastoid, the serratus magnus also fails to react. Very little movement at shoulder, adduction to 90 (degrees) gives much pain, all movements at and below elbow good."
It was already looking unlikely that Butler would return to the front and he remained in the medical system until his discharge. On 2 Mar 1918, a Medical Case Sheet completed on him noted an injury diagnosis as "G.S.W. Neck, Paralysis right side shoulder girdle," with the following details:
"X-Ray shows foreign body right side of neck, 2 Mar 1918; Small fragment of shrapnel lying to right and anterior to upper portion of thyroid cartilage. Small shrapnel wound anterior … right sternum … 2 inches below angle of jaw … Atrophy of deltoid, pectoral, latissimus dorsi. 60% limitation of movement of right arm. …. [otherwise] general condition good."
Butler's condition dictated that he was not going to be able to continue serving as a soldier. Accordingly, on 25 Mar 1918, with a diagnosis of "Paralysis right shoulder girdle" made at Buxton, it was determined that he should be invalided to Canada. He was discharged from Granville Canadian Special Hospital on 27 May 1918 and the next day transferred to No. 5 Canadian General Hospital, Kirkdale (Liverpool). Kirkdale was used to hold wounded soldiers awaiting ships sailing to Canada.
One month later, on 26 Jun 1918, Butler was discharged from No. 5 General Hospital, struck off the strength of the N.S.R.D., and boarded that S.S. Araguaya for return to Canada.
Butler disembarked in Canada in Canada on 5 Jul 1918 and was taken on the strength of No. 6 District Depot (Halifax), being transferred to the Hospital Section, effective 7 Jul 1918. His medical diagnosis was again confirmed on 1 Aug 1918 as "partial paralysis right shoulder girdle" and a Medical Case History completed at Halifax recorded the following details:
"The disability caused by Butler's partially paralyzed shoulder is unchanged and the Board recommended discharge as unfit, stating eh should be able to partially complete the duties of his former trade as a ship's waiter. The report does note that Butler still had "a small fragment of metal imbedded on the right side of the larynx, which creates no disability." He was also described as poorly nourished and underweight. His address after discharge was to be Pine Hill Hospital, Halifax, N.S."
On 9 Aug 1918, Joseph Butler was transferred to the District Depot Casualty Company from the Hospital Section and he was discharged at Halifax, by the No. 6 D.D. Discharge Section on 19 Aug 1918.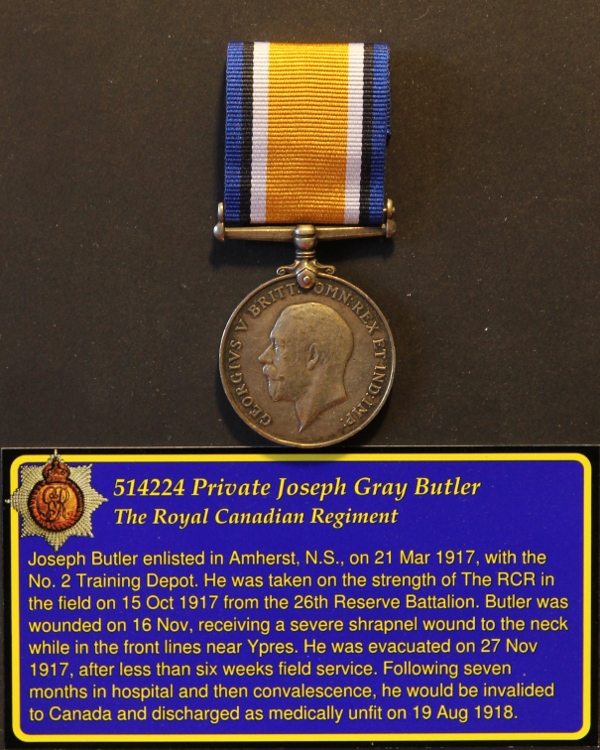 The British War Medal awarded to Pte Joseph Gray Butler for his First World War service. Butler would also have received the Victory Medal.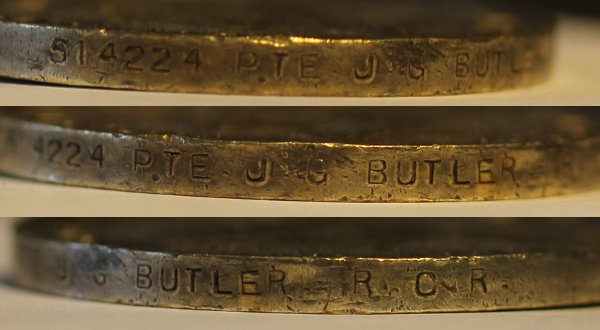 The naming on Pte Joseph Gray Butler's British War Medal.
Pro Patria