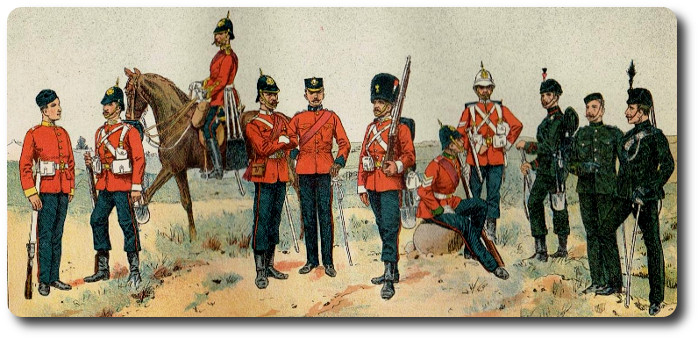 The Complete Kit of the Infantry Officer (1901)
By Major G.W. Savile, Middlesex Regiment
The Unites Service Magazine, Vol. XXIII. (New Series), Apr to Sep 1901
Army reforms and the expenses of officers being still prominent questions of the day, I venture to put in my oar, and to suggest the following changes as a means of, at all events, cheapening the outfit of the infantry officer, as well as providing him with a suitable kit for active service in any part of the world. It is rumoured that some of these changes are already impending, and may have been decided on for all we know, as news filters slowly out to South Africa. I think it only fair to state that I am indebted for many "hints" to the unknown author of that excellent little book 'The Army from within,' who has a very clear and up-to-date knowledge of the British officer and also of Tommy Atkins.
I will not venture to touch on a cavalry officer's outfit, as candidates for that branch of the Service are generally men of means, and there is no reason why they should not spend their money as they like; but the case of the infantry officer is different, and the expenses of an outfit on top of some heavy crammer's bills, often unfortunately necessary before a commission can be obtained, is in many cases a tax, and no light one too, on parents, and as this must be augmented by a yearly allowance of from £60 to £120 (the latter should be quite sufficient for a steady-going subaltern to live on in England, and could be reduced to a half if the battalion is serving in India, provided in both cases that a complete kit is provided in the first instance)—it is therefore desirable to see if the expenses connected with the outfit might not be curtailed.
First regarding the uniform necessary for an officer, and here I agree with the author of 'The Army from within' that the present full-dress tunic, the mess dress, and a kharki dress are all that is required.
The present tunic is quite good enough for all show purposes, but I think the gold sash and gold sword-belt might always be worn with it instead of only being kept for levées and balls; this also does away with the necessity of getting a red sash and a white sword-belt.
The present cloth trousers with a red stripe are quite good enough, and the gold lace ones might be very well dispensed with. The present helmet looks very well, but I should like to see the large metal plate in front reduced in size so as to take the weight off the forehead. With a pair of white gloves and Wellington boots the full-dress kit is complete, and would cost, taking the Army and Navy Store price list as a guide (I think the Army tailor might very well take it as a guide tool), and allowing for some of the necessary articles to be in duplicate, about £26.
Now for the mess dress. The present one is a capital one, and, as there is no gold lace on it, should not be expensive. The two pairs of cloth trousers included with the full dress would, of course, be worn with the mess kit, so the only extra required would be a pair of patent leather Wellington boots, and this, with the same standard of price, should not exceed £8.
The working or everyday dress to be of kharki serge or any other strong material which may be selected. (I think nothing looks neater than the undress serge uniform with a white collar which is allowed in India.) For marching and field-days I would add cord breeches and brown leather gaiters with lace boots. The present staff cap made of kharki material for the head-dress, with a slouch hat for manoeuvres. The coat, trousers, and breeches could very well be made by the regimental tailor, who could get the material at cost price and should turn it out for about £8, allowing for this two coats, two pairs of trousers, and one pair of breeches, to which must be added another £6 for two pairs of shooting-boots, the forage—cap, slouch hat and gaiters—total £14. In addition, a Sam Browne belt and scabbard, a revolver, a pair of binoculars, haversack, great~coat (without the cape, which is of little use), water-bottle, two pairs of brown gloves, a light waterproof cape and a uniform case, the whole costing about £18. I have put down an officer's arms as they are at present, viz. a sword and a revolver, but for service I think the sword should be left behind with the full-dress uniform, and every company officer should carry a light carbine (which might be supplied to him by Government). It is not so much the shooting that is required, and for this reason I suggest a carbine and not a rifle, but what is necessary is to make the officer look like his men as much as possible. A bayonet might also be worn, and carried by officers in the frog of the Sam Browne belt. [Footnoted: A small bill-hook or a pair of wire-cutters would be more generally useful.—Ed. U.S.M.]
To come to the question of furniture. There I think the aid of Government might fairly be claimed in respect of all the necessaries such as bed, bath, washhand-stand, chest of drawers, and curtains for all officers' quarters, and then the necessity of buying these articles would be done away with all together; but in any case I think a five-pound note might very well be laid out in buying a set of the X patent camp furniture, which will always be useful for manoeuvres and camps, and has the advantage of being strong and very light; the bed, bath, chair, table, and washstand all folding up and going into a kit-bag.
Probably one will require an armchair, some covers for the barrack-chairs, a valise, and bedding, and a lamp, but here another £5 or £6 ought to cover the outlay; so for £10 or £12 an officer should have quite enough for his barrack-room, and if Government would only help by putting the articles suggested into the room as fixtures, there need be no expenses incurred in future in carrying about a lot of heavy things, which never improve in the tender mercies of a fatigue party, and which when the officer is ordered abroad or on service have either to be stored or sold for next to nothing.
To sum up the expenses of the outfit, and to save my readers the trouble of adding up the various items, I would say that the complete uniform should not cost more than £68, and with an extra £10 or £12 for furniture and necessaries the total comes to £80. With this kit an officer should be prepared to move to any part of the world, and there would be no necessity when ordered off on active service to rush off to "Town" and buy almost a complete outfit, as was the case with most of us when the present war broke out.
I remember some years ago seeing a caricature of Sir Charles Napier mounted on a camel, flying over the Sind desert, and saying,
"All that is necessary for an officer is a spare pair of boots, a couple of flannel shirts, and (I think he said) a towel."
[Footnoted: Upon a certain occasion, twenty-five years ago, when the officers' baggage-waggon had been reported broken down many miles in rear, a less distinguished officer was heard to ejaculate, "I don't care a d——n, I've got my tooth-brush and 'Sir Garnet' in my haversack."—ED. U. S. M.
This, of course, compared with my "complete kit," is more economical, but I expect Sir Charles Napier left a bit more at the base to be brought on by other camels.