Mess Dinners; Advice for Subaltern Organizers of
By Capt. Michael O'Leary, The RCR
In 1983 I joined the 2nd Battalion, The Royal Canadian Regiment, as a newly commissioned officer. Arriving at the Adjutant's doorway precisely at 0800 on my first day after post-training leave, I was quickly given sufficient reason to believe that a little tardiness may have been a better course of action. As the first to cross his threshold out of nine new officers that fall, I was given the one available rifle platoon. From there the results of our conversation went downhill, how fast or steeply I was only to realize later. I was also given a Summary Investigation to execute (rugs missing from the troops' barrack rooms), instructions to be in the CO's office at 1300 that day (four of my soldiers were to be remanded for Court Martial or Summary Trial) and some secondary duty called Mess Secretary.
Mess Secretary didn't sound so imposing at the time. Perhaps I should have been more worried after the incumbent Lieutenant asked me to meet him at the Mess for a handover. Arriving at the Mess I found him sitting out front in his sports car, the engine idling. My handover consis/srsubted of being handed a six-inch stack of files and the words "Listen to the Mess Sergeant." His final advice:"Good luck!", was almost unheard as he popped the clutch and sped away to finish packing for his flight to Cyprus a few days later.
I ran my first Mess Dinner that December, the combined RCR/RCD Centennial Birthday Mess Dinner at Saint Andrews Barracks Officers' Mess. Thankfully, I had a great Mess Sergeant who saw me through the worst of it all. I must have done the job really well, or really badly. In 2008, I Component Transferred from the Regular Force to the Reserves and joined 4RCR. That December I ran the RCR 125th Birthday Mess Dinner at Wolseley Barracks Officers' Mess. Through the course of running Mess Dinners over the past 25 years, I've realized how little published advice there is on this task for junior officers being so tasked. And that realization has led to this article.
If the PMC's not "the man for the job" when it comes to organizational advice, figure out who is.
The Dreaded Task
So, you were moving when you should have been covering and you've been cornered by the CO or the Adjutant with those infamous words, "We'd like you to run the upcoming Mess Dinner." Caught without a good excuse why you shouldn't do it, you resign yourself to your fate and, after you're alone, ask yourself "How do I do that?" The guidance offered below won't cover every possible situation, but hopefully some general background will help any young officer so tasked to embark on their journey from a position of knowledge.
A junior officer will usually have a few pieces of information to work with when tasked to organize a Mess Dinner. These might include:
a. a date,
b. a venue, and
c. a recommended source for guidance, perhaps the Captain or Lieutenant who organized the last regimental dinner.
Immediate Action
So, where to begin?
First, and without any procrastination, there is one thing that has to be done immediately. Get to the venue, whether that be a Mess, hotel or restaurant, and confirm the booking. Just because the date is in the unit calendar, and the dinner is always run there, is no guarantee that anyone told the venue manager that you were coming back that night.
Next, track down that recommended source, but go prepared (i.e., keep reading). Have some idea of what information you need to continue. You've probably attended one or two Mess Dinners yourself, but trying to remember details of their organization can be a challenge.
As a starting point, perhaps a review of Mess Dinners of the past might help provide a frame of reference. You'll be dealing with assorted senior officers who will draw on blurry memories of decades of Mess Dinners when they try to hint, cajole or direct what they want in a modern dinner. Some things can be replicated, some must because "that's the way the Regiment does them", and others are best left to the memories of those "good old days."
Background
In the early 1980s, when I had the pleasure of running my first Mess Dinner as a Second Lieutenant. Mess Dinners were formal and ritualized in their organization and intent, but the free flowing beverages sometimes made the execution somewhat chaotic once the Line of Departure was crossed. At the time, the best resource available to a young officer in organizing a Dinner was the Mess Sergeant. A role usually filled by a Mess Manager today, the Mess Sergeant was usually an older and very trustworthy NCO who had the care of the Regiment's property and oversaw support to activities in the Officers' Mess.
A good Mess Sergeant would pull out his carefully typed checklists, not so much for the assistance of the young officer, but to confirm that he received all the information he needed to support the dinner. The Mess Sergeant knew full well that once the first glass of sherry went downrange it was he who would be in charge of coordinating cook, servers, bartenders and band.
The following links are to two Mess Dinner Checklists. These were in use by the Mess Sergeant of Saint Andrew's Barracks Officer's Mess in Gagetown in the early 1980s.
Mess Dinner Sequence (circa 1980s). (See Annex A)
Mess Dinner Questions (circa 1980s). (See Annex B)
A review of the checklists will introduce a reader to the many aspects of a standard Mess Dinner of 20+ years ago. While some would wish to replicate that atmosphere and presentation in exact detail today there are a number of factors that make it an unrealistic expectation. That said, there will always be some who don't understand why we can't still do it just that way, and at the same cost.
Historic Cost and Current Reality
Those dinners of the 1980s could have six courses (cocktail, soup, salad, fish, meat entree and dessert), with four wines (sherry, white, red and port), cigars (or cigarettes) served at the table, liqueurs, and, finally, nut bowls and cheese trays with the port. All this, and affordable at about $35 per person. At that price who wouldn't want to replicate those days and those dinners.
But times have changed, and so has society and the CF. The reality is that we can't replicate those dinners, and not just because smoking is no longer permitted at the dining table.
Those $35 Mess Dinners included:
unit cooks (i.e., no staff wages)
soldiers to serve the dinner and wines (i.e., no staff wages)
some extra messing foodstuffs thanks to living in subalterns who ate out regularly
very low profit margins in the Messes (i.e., wines barely above cost)
military bands (i.e., free music for official functions)
A sample menu from 1986:
MTC Aldershot
Officers' Mess Dinner
15 July 1986
Held in the Officers' Mess
MTC Aldershot
Music Performed by
The MTC Aldershot Band.
Menu:
Seafood Cocktail
w/sauce and lemon twist
Chicken Consomme
Saute Filet of Sole
Prime Rib of Beef a Jus
Yorkshire Pudding
Log Cabin Potatoes
Steamed Broccoli
with Hollandaise sauce
Honey Gazed Julienne Carrots
Strawberry Shortcake
with Whipped Cream
Coffee, Tea
Rolls, Pickle Trays, Cheese Trays
Nuts & Mints, Cigars & Cigarettes
Wines:
White Wine - Jost Seyval Blanc
Red Wine - Jost Marcheal Foch
Port - Andres Fine Old
Sherry - Andres Fine Old
So, that $35 meal price included a number of elements that can't be had for the same costs today. In particular the use of soldiers as meal servers is verboten these days. One other small point that is often missed by those reminiscing over those great dinners of yore is inflation, $35 in 1983 dollars is actually equivalent to $70 in 2009 dollars (and that was mostly just the food and liquor costs). So, all things being equal, if a dinner can be run for $60-70 per plate today (perhaps accepting the loss of one or two courses and the liqueurs), it's not much of a retreat from the possibilities of 25 years ago. (Inflation Calculator)
With the foregoing background, you can see how organizing a Mess Dinner can be a bit of minefield of suggestions and hints from those who may be trying to recapture the "good old days" of their own youth. When those of the "old guard" attempt to shape your battlefield, smile and nod politely, make a careful note in front of them to show interest and determination to follow-up, and then soundly ignore them while you ensure that the CO's expectations and current reality are accounted for. None of that crew will openly proclaim your impertinence at not doing as they suggested. If any do, you can trust that the value of their "suggestions" has been repeatedly discounted before, probably even by the CO when he or she was a subaltern with a similar task.
Time Spent on Recce
Your first question, even at that fatal moment of tasking, should be to ask: "Who will the PMC be?" The PMC for the dinner, normally a more senior officer of the unit (the senior Major after the DCO perhaps), will be the official head of the function, but may not get directly involved until the execution phase. The PMC can be useful, however, as a sounding board for tradition and hazard avoidance, as long as he isn't in the "let's recapture lost glory" camp. In the latter case, keep the PMC in the dark until the final moments when it's too late for erratic influences to be incorporated (he probably avoids the minutiae of organization and administration anyway and only volunteers to be the PMC for the "prestige of the position").
If the PMC's not "the man for the job" when it comes to organizational advice, figure out who is. One of the best people to ask is the Mess Manager. Who are the unit officers he's had the best cooperation and support from in the past for dinners? There are your best targets for seeking advice.
With some of the hazards on the course explained, let's look at some of the mechanics. Hopefully you haven't received the Mess Dinner task too late to get through the necessary steps without rushing or dropping some of them altogether.
The Mundane Details
The success, or lack thereof, of Mess Dinners hinges on the details. And while some snake-eating, trigger-pulling junior officers may feel that organizing a dinner is a waste of their Taliban-hunting skill set, they may find that the challenges of doing it well and making necessary decisions in the absence of orders can be demanding in its own way.
Now, back to organizing that dinner. Let's examine each of the following areas:
Invitations.
Invitation List.
Getting from the RSVPs to a Guest List.
Seating Plan.
Mess Sergeant - Mess Manager.
Meal Planning.
Wines.
Menus.
Place cards.
Extras.
Speakers and Presentations.
Music.
Laying the Table.
Grace.
Toasts.
Marchpasts.
Music.
Invitations
Will invitations be sent out?
Will there be a hard copy invitation?
Will there be an e-mail version?
The biggest problem with Mess Dinner invitations is that most recipients ignore them, especially the request to respond to the included RSVP. The sending of an invitation today is as much a PR and marketing challenge as it is an invitation to dinner.
The invitation must include all of the essential information that a guest will need to know: date, timing, location, RSVP details and payment options. It can also include information on the purpose for the dinner (significant regimental day perhaps?), known guests of honour (which could attract positive responses) or additional regimental information to provide some extra context for those invitees who are not normally on unit distribution lists for information.
Make sure the RSVP information includes multiple methods of responding. Some people like the process of writing a note and mailing their response, which also means they need to receive the invitation with enough time to do so. Others like the immediacy of the telephone, or the convenience of e-mail. Have someone on the other end to respond to questions. In a Reserve unit, having the phone and e-mail going to a desk occupied once per week is not enough, have a full time staff member involved, or even use the organizer's personal contact information to minimize the query loop as much as possible.
Will the CO want to add a note to any VIP invitations? That personal touch might increase response rates and it gives the CO a prime opportunity to further contact with those friends of the regiment.
One final and very important item that must go into the invitation is the dinner cost. If you have covered all the elements of your dinner, you might have time to develop a detailed cost estimate. Otherwise you will have to make a few educated guesses based on the information you gather. Keep in mind that low-balling a dinner price may create an unnecessarily strict restraint on the rest of your dinner planning.
Invitation List
"Guess who's coming to dinner?" Sadly, the operative word in that phrase is "guess." Every unit has a small cast of characters who will appear at every dinner, though some may be more welcome by the subalterns than others. The art of crafting an invitation list can be tricky, especially when the task of organizing dinners passes from hand to hand on an event to event basis.
Ask who usually gets invited to the unit's Mess Dinners. From that identify the major groups and see if you can add some names who might add to the table if they come. You'll get plenty of advice on who should get an invitation, but finding the and proper naming details and addresses is a separate challenge altogether. Talk to the last dinner organizer, to the Adjutant, the CO's Secretary (if your unit has one) and to the Chief Clerk to see what unit address lists are held. Who was invited to the last change of command or presentation of Colours? What about the unit Christmas card list?
Now, who might be on this invitation list?:
Honorary Colonels and Lieutenant Colonels (current and past).
Serving unit officers.
Retired unit officers, both those in the regimental association and others.
Any regimental Generals, even if they are out of the area.
Local dignitaries who attend unit ceremonial occasions, or that the CO wants a convenient opportunity to remind them of the regiment's existence.
The CO's old drinking buddy, who was a "subbie" in the Regiment for six months before leaving under suspicious circumstances, but always seems to turn up at mess functions to corner the youngest subalterns in the back bar and tirelessly regale them with stories about how things were back in the day. (Invite him, because if you don't the CO will never hear the end of it, and possibly neither will you.)
And those who get invitations every year, even though they haven't darkened the door of the Officers' Mess since the Bugtussel Fusiliers amalgamated with the Swampwater Highlanders and the balmoral took precedence over their beloved hackle ...
For internal distribution especially, maximize the use of an e-mail invitation. But, don't just attach your hard copy invitation to a one-line e-mail and mass mail it. Don't add extra steps, not even a few mouse clicks, to the process for someone to read the invite and respond. Redesign the invitation for e-mail distribution so that it can immediately display in a presentable format. If possibly, make the reply-to address the one you want responses to go to (and mention that in the e-mail). Finally, attach the hard copy version if you think it will help, but don't rely on it alone as an e-mail attachment.
Keep in mind the costs of invitations and postage, and their effect on the dinner's bottom line. Costs for hard copy invitations and postage end up being borne by those who actually attend the dinner. Don't be shy about culling your mailing lists of repeat offenders who never RSVP, let alone attend.
Getting From the RSVPs to a Guest List
Careful tracking of RSVPs and names is essential. Whoever is receiving the responses needs to know what information to gather from, or to confirm with, each respondent. Required information for place cards: name, rank, post-nominals. Special dietary needs. Names of any guests of the respondents, including spouses, girlfriends, or boyfriends if the function is mixed. Names of any other identified guests. Regimental or Corps/Branch affiliations if marchpasts are to be played at the end of the dinner. And, last but not least, method of payment.
The names gathered from the RSVPs trigger another organizational requirement, the seating plan.
Seating Plan
There are few aspects of Mess Dinner planning more subject to the unwelcome interjections of the peanut gallery than the seating plan. Everyone wants to try and control who they sit near, and who they sit nowhere near. The former desire is nice to deliver; the latter, while it may seem petty, can be very important. Placing the wrong people close to one another can not only ruin their evening but also that of everyone around them. So care must be taken and the best effort made to have the seating plan reviewed by one or two unit officers who know where the skeletons are hidden, and who put them there.
At a minimum ask the PMC if he wants to review the seating plan. If he's not concerned, see if the Adjutant or the DCO will do so. And, when talking to the Adjutant, have him or her confirm if the CO wants to see it. Always work up the food chain with subsequent reviews, that way you're not taking a chance on a subordinate appointment screwing with something the Boss already sanctioned.
Start with the CO centred on the head table, the PMC at the end of the head table to the CO's right, and the DCO at the end to the CO's left. Put the VIPs at the head table, with the guest of honour to the CO's right. The junior subaltern sits at the end of the table wing to the CO's left. That young officer will be the Vice-PMC ("Mr. Vice") and will have the task of proposing the Loyal Toast to the Queen.
Fill the table wings with the remainder of the dinner attendees. Most units spread senior and junior, serving and retired guests throughout each table wing, avoiding clusters by rank or age. In rare cases, a unit may have developed a "tradition" of filling the table from senior ranks against the head table down to junior officers at the end of the wings. While this may satisfy the pompous few who only like to sit with their cronies, it hardly opens up the possibility of new officers meeting various regimental personalities through sitting next to new acquaintances at each dinner.
Mess Sergeant - Mess Manager
This person is your friend. Since Mess Sergeants are endangered, if not extinct, these days, I'll orient my remarks to the position of the Mess Manager. You'll receive enough warnings about the Mess Manager if he or she is difficult to deal with, but also consider the sources if those remarks aren't consistent. The Mess Manager will advise you what the Mess (and/or the contracted Mess caterer) provides, and what costs will be involved.
Listen carefully when the Mess Manager advises against a particular course of action, there will probably be some concrete information as to why things don't work effectively that way. Sometimes its best to keep the plan simple and follow proven routes. Experimenting with or challenging the usual course of action can sometimes, not always but sometimes, be disastrous. And regardless of who convinced you to try it, the name associated with the catastrophe will always be yours. Despite that warning, don't be afraid to challenge the old ways when you are confident of the outcome. After all, some "treasured traditions" are born merely out of the simple reluctance of generations to try something different.
When you talk to the Mess Manager, discuss the following:
Meal options and cost.
Deadlines for confirming numbers for meals.
Options for table design based on numbers.
Table coverings, i.e., will you use tablecloths or bare wood.
Table decorations: candelabra, regimental silver.
Menus: will the Mess print them or do you have to prepare them?
Place cards: will the Mess print them or do you have to prepare them?
Seating Plan: what information doe the Mess manager what to prepare the seating plan, or do have to prepare it?
Candles; does the Mess provide (what's the cost?) or do you need to supply them.
Bar hours; will you need to request an extension?
Wine options and cost.
Special toasts; will you need specific alcohol available for a regimental toast (cost?).
Music; does the Mess provide a sound system in the absence of a band?
Is there a requirement to have the Mess PMC's (not to be confused with the designated Dinner PMC) permission if dinner to include NCOs?
With each item that could be prepared by the Mess Manager or the dinner organizer, start with assuming the Mess Manager does it and ask what information he needs and when it has to be on his desk. With some Mess Managers, you'll be allowed to do every little thing you volunteer to take care of. Make him earn his pay too.
Meal Planning
A few decades ago it was a rare Mess Diner that didn't serve beef, usually prime rib, as the main course. More recently, dinner after dinner could be found to include chicken. The change over time was probably related to relative cost as much as any other factor. The important requirement is to choose menu options that are likely to be appealing to most diners, and still have an affordable cost as part of your total dinner price.
Ensure that special dietary needs can be met. Some people are vegetarians and don't appreciate being expected to eat around the slab of carrion on their plates. Others have medical conditions that dictate what they can, or more importantly what they cannot, eat. Each such diner deserves some consideration and an appropriate meal. Ensure that the Mess (or caterer) is prepared to meet any dietary restrictions, or start considering new options for the dinner in a different location or with a new caterer. Ensure the Mess Manager's copy of the seating plan is annotated with special meal requirements, so that he can brief the serving staff during the dinner on who gets served the braised tofu.
Wines
No Mess Dinner is complete without wines. An "old school" dinner might include a sherry table in the ante-room before the dinner; sherry, white and red wines at the table; and port for the toasts. Sherry tables, their glasses artfully arranged in the letters of the unit title, possibly alternating light and dark sherries, are pretty much now relegated to tales of the "good old days." Wine at the table may be only one of white or red, and quite possibly strictly limited to the house wines. Port continues to be a perpetual problem, not because of any inherent characteristic, but because so many dinners have served cheap port for so long it's become a standing joke for its very existence.
The Mess Manager will likely have a simple spreadsheet that calculates from the number of guests and glasses of wine per guest how many bottles of each wine will be required. His numbers will be based on his experience and the averages will include teetotalers, designated drivers, and those who choose to limit their intake. Those folks, of course, are balanced by the "hey, it's free, right?" crowd that keep the wine stewards on their feet.
No doubt one officer in the unit will offer to "advise" you on the wine selections. Prattling on from what he half-remembers from the Liquor Board's latest vintages booklet, he'll suggest some obscure recent vin nouveau that is (a) unavailable, (b) too expensive, and (c) liable to leave you with extra, paid for, bottles behind the bar. Smile politely, nod, take notes. Go back to the Mess Manager and confirm the house wines.
While allowances are made for special dietary considerations, try not to tread that path with the wines. Wine is included in the price, it always has been, and guests may choose to not drink it. If anyone wants to beat the drum with the CO over not paying for the wines as part of their dinner price, the best counter-option is no table service of wine. Those who wish to drink wine can purchase bottles at the bar and take them to the table. A final fall-back position is to ensure those individuals' place settings are set with water glasses only. Don't forget to adjust the wines spreadsheet for a lower number of wine drinkers, and if there are more than a few, the average glasses per person will have to go up since the mitigating factor is removing itself from the equation.
Finally, the port. Ask almost any officer who's been to a mess dinner and they will tell you that port sucks. The fact is port doesn't suck. Cheap port sucks. And cheap port has been served in so many mess dinners for so long that generations of officers believe that the crap usually dispensed from those decanters is what all port tastes like. It's time to reverse that trend. Keep crunching the numbers to fit in a few bottles of decent port, which usually starts at about $20 per bottle. There doesn't need to be a gallon of it left over for drunken subalterns to spill on their shirtfronts after the dining room clears, or (more likely) to leave on the table after the more senior officers have laughed over their juniors' fate to finish a port-flavoured turpentine. There's no better experience than watching the faces around the table as they taste a decent port when they were expecting more of the usual. End the dinner on a high note, serve a good port. Knowing this contravenes my earlier advice on wines, assume risk with the port and step up to something that was made to be served to gentlemen and ladies from a crystal decanter, rather than from a crumpled brown paper bag and drunk in an alleyway.
Menus
The menu contains all the information that most diners don't care to know about the dinner. There's nothing quite like a cheat sheet that lets you know there'll be honey-glazed carrots with the roast beef five minutes before it arrives and offer no opportunity to change your order anyway. But you'll get more grief if there aren't any, or enough, menus than if there are too many or if they contain too much information.
Menus usually include:
A title page with the dinner title, place, date, etc., that make it the event souvenir for the compulsive collectors of such ephemera.
The meal listed by courses.
The wine list.
The name of the band and its director.
A list of marchpasts is often included on the back of the menu if they are to be played.
Menus should not be a complicated task. Good quality paper, simple clear typography and just as much information as needed is a good rule of thumb. Ask the Mess Manager for examples to go by if you don't have any saved from past dinners yourself. One for every two diners is a good target number to start with.
Place Cards
Remember those details collected with the RSVPs? Well, that was also needed for the creation of the place cards. The Mess Manager should be able to prepare these, as long as you provide him a list of the names. Do it electronically and ask what file format will be most useful for him to use. The format should be rank (abbreviated), initials, surname, and post-nominals. For a less formal dinner: rank, first name and surname may suffice.
Various messes and units use place cards with the unit cap badge or crest on them. This is a nice touch and can be used to match the design of place cards to the menu.
Place cards have often been used to pass notes along the table during dinner. The first presumption that the author of any such note is the officer whose name is on the card is why many officers have developed the habit of pocketing their place card as soon as they arrive at the table. If you want to be creative and are making the place cards yourself, try printing them with a small blank memo format on the back, it's an entertaining little addition to a unit or regimental dinner populated by friends.
Extras
Many units have their little extras that are expected to be included in every Mess Dinner. The biggest problem about these for junior officers tasked to organize dinners is that they are seldom written down, and many more senior members of the unit have forgotten that others need to be taught to include them.
When working through the planning stages, ask every unit officer you deal throughout the dinner planning phase what the unit does at Mess Dinners. Ask the Mess Manager if the unit has previously brought in anything he hasn't seen with other units. And always be prepared to insert just such an extra item when someone remembers at the last minute to tell you it's needed.
Examples of some mess dinner extras that you may need to deal with include the following:
Is there a need to arrange for any special drink for a regimental toast? If it's complex, who will mix it and how will it be served?
Will the Mess provide the candles, or do you have to bring them in? Will the candles all be white, or does your unit have a habit of using Branch or regimental coloured candles? I will offer a word of advice here - use dripless good quality white tapers. Coloured candles may seem like a good idea at the time, but a Mess Dinner table shouldn't be dressed up like a 4-year-old's birthday party. (The same goes for coloured napkins.)
Will regimental silver be laid on the table? Are certain pieces or trophies always laid in front of specific officers by appointment?
Don't forget the PMC's gavel. Does the unit have its own?
Will special cups be used when the CO has an after-dinner toast with the cook and piper or band leader? Whisky drunk with the piper is often drunk from quaifing cups in highland regiments or units that have adopted that tradition.
Speakers and presentations
Do you have a unit tradition on speakers and/or presentations at Mess Dinners. For example, in The RCR, speeches, presentations of awards and retirement gifts are done before dinner and not at the table. This approach limits the talking to the 30-minute cocktail period (except when someone really likes to hear himself talk) and avoids condemning the guests at the end of dinner to a suicide-inducing monologue.
During the planning stage find out when speeches are made and for what purpose. Are they even included at all? Does the CO expect a guest speaker, or will the CO address the dinner at some point.
Make sure all of the details are recorded on a file card that you can provide to the PMC for his or her remarks before the dinner and for any stage during the dinner when the attention of the room will be required.
Laying the Table
Simple is best, as the Mess Manager should advise. White china, silver, crystal, bare wood table surface. Avoid tablecloths if possible, they just get stained and provide a poor appearance once the table is stripped of china, silver and glassware before the toasts. Tablecloths also cost extra because they'll need to be cleaned afterwards.
I've mentioned regimental silver.
I've also covered candles and napkins - white, white and white.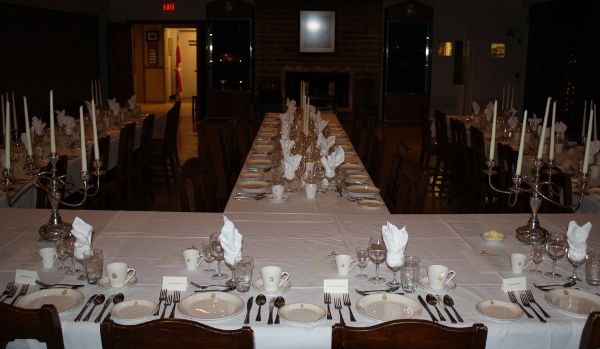 A typical mess table laid for a Mess Dinner.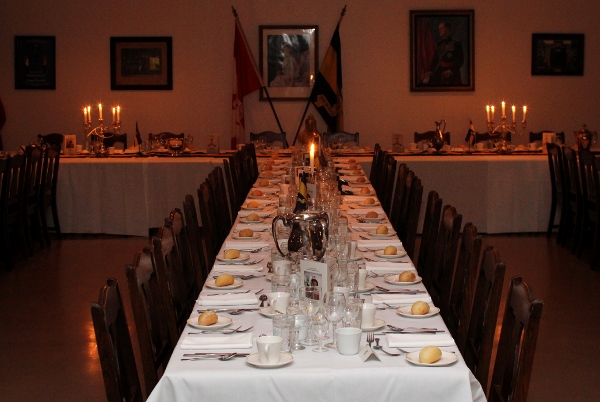 A Mess Dinner table including regimental silver trophies, flags and menus.
Grace
Who will say grace at the start of the dinner? If the unit Padre will be in attendance it's an easy call. Otherwise it's a task that has to fall to someone. In some units it's considered an honorable task and certainly not an onerous one. Perhaps the Adjutant or another senior captain would like to do it. In other units, every small task is considered an imposition by some officers, so care might have to be taken in deciding who to ask. Regardless, ensure your dinner notes for the PMC identify who he will be asking to say grace.
Toasts
Confirm what toasts will be drunk at the end of the dinner. Who will propose each toast
The Loyal Toast, of course, by Mr. Vice, the junior subaltern in his or her designated chair.
Is there a regimental toast? Will this require a special drink, always or only on secial occasions? The Royal Canadian Regiment drinks the Ortona Toast, a mixture of rum, water and sugar, at their annual birthday dinners. This toast not only has a specific ingredient list, it is also drunk from white china mugs.
Will there be a toast to fallen comrades? Doing this on a regular basis has become common in some Messes with the recent losses in Afghanistan. What format will it take and what preparation will be made. In some messes a separate table is set for the "fallen comrade", and for training dinners an explanatory introduction may be given by the officer proposing the toast. An example of this full version is included at See Annex C.
If the dinner is a Dining-In, i.e., with wives and other significant others present, will there be a toast "To the Ladies."? There was a time when military officers were exclusively male and significant others were always ladies, and a toast to the ladies was entirely appropriate. Some may feel it is becoming archaic, which is perhaps true, but it's not yet discomfiting to include. Perhaps the day will come when this toast will evolve into one to "Our Better Halves."
Marchpasts
When marchpasts are to be played at the close of the dinner, the printing of the list of marchpasts on the menu is increasingly helpful these days. Many officers seldom hear their own marchpast these days, let alone are able to identity anyone else's (except for the Princess Patricia's medley, of course - one day they'll find that Colonel). Make sure the collection of RSVP responses includes confirming regimental and corp/branch affiliations for the list of marchpasts. Don't be snowballed by the pompous few who want all of their personal marches from a patchwork quilt of a career played, the one played for any guest is that of his or her current or most recent affiliation. They get to stand for others by coincidence of service, not through personal influence over the list of marches.
The order of the marches is important. The current reference is A-AD-200-000/AG-000 The Honours, Flags and Heritage Structure of the Canadian Forces. See Chapter 1 for Order of Precedence and Annex A to Chapter 7 - Authorized Marches in Order of Preference. The relevant paragraphs from Chapter 7 follow:
33. Marches often are, but need not be, played at mess dinners. For customary guidance, at routine dinners and dining-in nights, only the march of the unit or other organization concerned is played. Commonly, if representatives of other units or organizations are officially hosted at dinners, their marches are also played; private guests are not normally so honoured. See Chapter 12, Section 2, paragraph 7, for parallel comparison. Nothing in this guideline, however, prevents a parade of marches for all attendees. The host determines the protocol to be followed and notifies attendees, normally during the dinner.
34. If the host decides to follow a mess dinner with a parade of marches, the president of the mess committee shall ensure that the order of precedence in Chapter 1 is followed. Command marches will be played only when a flag/general officer of a command headquarters is a guest, or at command functions. Similarly, area and formation marches will be played only when a senior officer of the headquarters is an official guest, or at area or formation functions. Command, formation and branch marches eligible to be played in a number of positions in the sequence shall be played in the most senior position only. Marches of allied units or other organizations may be played in a position within the order of precedence as deemed appropriate by the host. If a parade of marches includes both organization (command, formation, unit) and branch marches, the current appointments of many individuals will allow them to identify with more than one, e.g., a navy logistics branch member now serving with a construction engineering unit and attending an Air Command mess dinner.
Music
We've mentioned marchpasts above, but it remains to determine who will be playing what music. In an era when not every unit has a band, sometimes creative solutions are necessary.
Will a bugler or piper play the dinner calls at H-15 and H-5 minutes? If so, will they choose the tunes, or does the unit have designated tunes for that purpose?
Will there be a band to play during dinner? If so, who will coordinate the band's timings and provide the marchpast playlist. Will the bandmaster have to do a recce of the Mess to determine where they can set up? If he does, be there and link up so that his intentions are part of your plan.
If there's not going to be a band in attendance, does the Mess have a sound system and appropriate music, i.e., instrumental, light classical, mainstream jazz or blues. Play the music barely above hearing level. The music should fill the gaps in conversation, not drown it out or fight for dominance with rising conversational sound levels. Does the Mess Manager have a CD with O Canada and your regimental march for the minimum desirable toasts? Who will time the playing of those tunes to the toasts.
Or, will there be no music at all. It's always an option and does not seriously detract from the dinner if it is the chosen course of action.
Consolidation
Save your notes and your electronic files. Be prepared to pass them on. And always keep in mind you might need them again yourself.
Good luck, and do try to enjoy the dinner yourself.